Some Very Wild Bird Feeders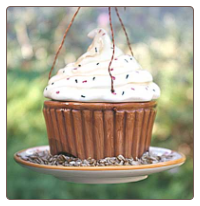 Bird feeders of every make and model imaginable will keep your feathered friends fat and happy! Any wild bird feeders that are easy to fill and clean are the ones that will attract more birds. If it becomes a real pain to clean…you may not tend to do it on a regular basis. And this is of utmost importance to birds' health, as disease can be spread very easily amongst the immediate population.
Stoneware, ceramics and glass wild bird feeders alleviate the dreaded gnawing of squirrels, and this can be a big plus to many folks who have football teams of the critters in their yard. Another benefit of these materials is they are non-porous, which prevents bacteria and germs from settling into surfaces.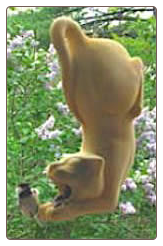 Pictured are just a few fun bird feeders that are guaranteed to attract and entice feathered friends. From ceramic cupcakes, to stoneware cats, these wild bird feeders make awesome gifts for any birding enthusiast or nature lover that might be on your list! Wild bird feeders make very long-lasting gifts, that actually get used everyday…now what could be better than that?