Use Hopper Bird Feeders to Hold More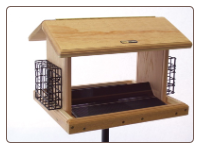 The backyard birding experience is about watching wild birds, their behaviors and songs, and their interactions in the habitat you've provided. At times it can be captivating, watching nature thrive, close up in your yard. It can literally "take you away" from the day-to day mundane, to the extraordinary.
Maintaining feeders is large part of this great hobby – cleaning and filling them. It's the responsible thing to do if you're attracting birds to gather in rather unnatural groups and eat from these feeders. If you're looking to spend less time filling and more time viewing, hopper bird feeders are a perfect choice. Hoppers tend to hold more seed than tube type feeders.
Large capacity hopper bird feeders will entice a good variety of species as well. Just about any kind of seed mixes will work with them, and some even offer suet cages for more food variety. We like to use sunflower hearts, as there is no waste or ground mess to deal with. This seed may cost a couple of bucks more, but is well worth it in the long run.
The hopper bird feeder shown above is constructed of durable cedar, and holds 11 quarts of seed, it even offers two suet cages that will attract different species. These feeders are also available in recycled plastics that are guaranteed to never crack, split or fade. Whether wood or plastics, with hopper bird feeders you'll spend less time filling and more time watching!