Even Wood Birdhouses Go Recycled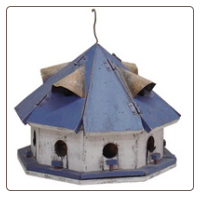 There is something to be said for weathered wood, it has a character you just don't see in new construction. Recycled barn wood has become quite popular in many home and garden items. The rustic look has wonderful appeal and blends with many styles of decorating. I remember seeing a barn wood bench in the Sundance catalog years ago that was beautiful, but out of my price range.
For the garden, some artists are crafting wood birdhouses from old barn wood and fence posts. Using reclaimed items such as tin, license plates, and even materials from local junk yards, these houses have character beyond compare. Wood birdhouses with clean-outs and ventilation are meant for feathered friends and provide vital nesting and roosting spots.
The Blue Roof Motel shown here is crafted from old barn wood and tin. Twelve cozy compartments each provide a great spot for wrens, finches, chickadees and other small songbirds. Also available in red, this wood birdhouse compliments just about any garden or landscape, and offers birds protection from the elements and predators too. In early spring, any number of the 12 compartments may become the perfect nest site for your feathered friends!