Decorative Bird Houses Built to Last a Lifetime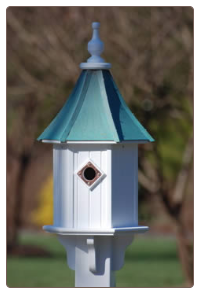 Providing much needed nesting sites for wild birds has really evolved since backyard birding has become such a popular hobby. Today, decorative bird houses run the gamut from just a few bucks to hundreds of dollars for an artist's piece of work. Hand made, high quality birdhouses and bird feeders that command attention while enticing and attracting feathered friends.
These copper roof decorative bird houses are constructed of PVC/vinyl and guaranteed to last a lifetime. Because it is the same vinyl used in the construction of people houses….you know it's going to last. With little to no maintenance, the houses and feeders are a dream. Forget about squirrels gnawing on them, or weathers' severe toll like their wooden counterparts. These houses and feeders are absolutely guaranteed to never crack, split or fade.
One of the great things with these vinyl and copper roof houses is that each piece is made to order, so you get to choose either a bright copper, or an aged patina copper roof. The other factor is the amazing quality. Hand crafted using a CNC router ensures absolute precision in each and every bird house and feeder. Some models are even available with a cypress shingle roof for a more rustic look.
Sizes range from a six-to-eight inch diameter house for bluebirds, all the way up to a jumbo 22-inch diameter for purple martin houses – which happen to be about four feet tall! From single compartments, to twelve compartments, with copper portals or perches, there are many great designs from which to choose. The roof shapes vary too, offering a bell, slope, or curly accent on the top of these wonderful decorative bird houses. They make an awesome and life-long gift for any backyard birder on your list!