handsome hopper bird feeders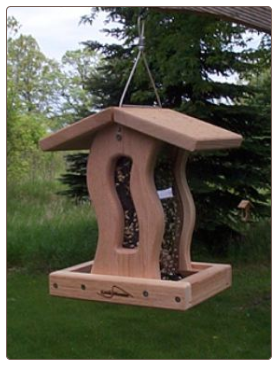 In order to accommodate more birds, we usually add more feeders. This is probably why our yard now hosts around twenty-some feeders… it's a chore keeping up too.
If you're starting with your first bird feeder, or just prefer keeping it to a minimum, then hopper bird feeders are a great choice. They'll hold different seed mixes so you can experiment and see what works best, and they usually offer lots of perching space for multiple birds to dine at once. Hopper Bird Feeders tend to have a larger seed capacity than tube style feeders as well, so you spend less time filling and more time watching.
This handsome hopper is hand crafted in cedar, with meticulous workmanship and quality materials. It may be more expensive than the hopper bird feeders found at "big box" stores, but it will outlast them by many years. Plus this is an individual artist's work –  their mark and TLC have gone into the making, creating a piece to enjoy and admire for many seasons to come.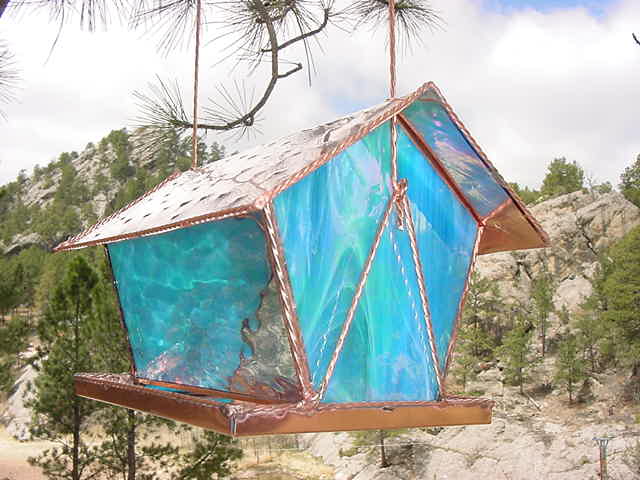 Another handsome hopper feeder is this stained glass and copper beauty. Hand crafted in the most beautiful hues, quality hopper bird feeders like these add an interesting focal point in any garden or landscape setting. Again, the generous perching area will accommodate several birds feeding at once.
Even if you'd like to keep the number of feeders to a minimum, you can still attract many more species by offering fresh water. It really is the single, most effective way to entice birds to your yard.  Definitely consider adding a bird bath, be it hanging, pedestal, deck-mounted, or a ground bath, you'll be amazed at the new visitors you'll see!