some very wild bird feeders indeed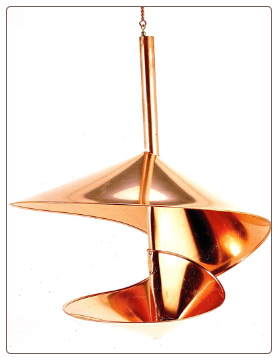 Since backyard birding has become such a popular hobby over the last few years, the array of functional products has pretty much exploded. Artisans and smaller companies are offering hand crafted wares like wild bird feeders, birdhouses and cool bird baths in a myriad of materials. Copper, vinyl, stoneware and ceramics are those materials with durability to last a lifetime. And unlike wood… the squirrels can not chew them to pieces!
This solid copper bird feeder with unusual design is actually quite beneficial. The large hat-like roof not only protects seed and birds from the elements, but also acts like a baffle to deter squirrels. In two sizes, this gorgeous copper feeder will weather over time to a lovely patina finish, and it's an awesome addition to any garden or landscape setting.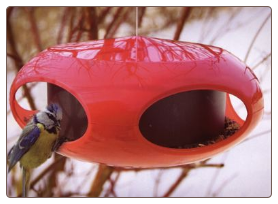 The retro is  new breed of wild bird feeders with it's groovy space ship design. Made in Germany, this quality feeder has a large seed capacity which stays protected from elements in the encased seed wall. In vibrant raspberry, lime or white, these wild bird feeders are totally fun and functional.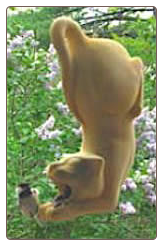 And of course, Mr. Cool Cat is a stoneware feeder with a tube-like function. Squirrels will never dig their teeth into this weatherproof stoneware, and he's n absolute hoot to watch feathered friends perched at his mouth enjoying a meal! In black or tan to resemble your favorite feline, these wild bird feeders are a unique addition to any environment… and bird love them too!
With buds popping up from the ground, and buds starting to bloom, we know spring is just around the corner. This is a great time for spruce up in the yard. Please  remember to clean out birdhouses in preparation for new visitors, and dispose of the nest in the trash or a good distance from the house as old nests will attract predators. Wild bird feeders should be cleaned periodically to remove mold and bacteria thus preventing the spread of disease. Scrub with a simple bleach solution of 1 to 10 parts water, and rinse thoroughly. This works just as effectively s any commercial bird feeder cleaning sprays.
Welcome spring and happy birding!