Archive for the 'Deck-Mount Birdbath' Category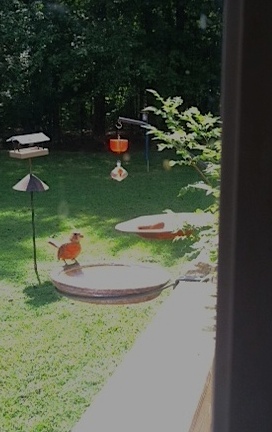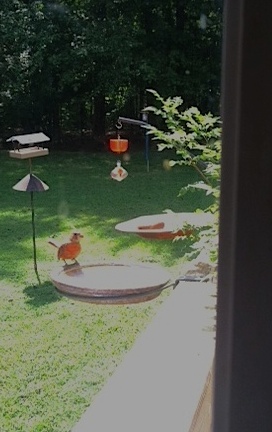 They say the kitchen is the heart of the home, with meals, conversation and most comings and goings through the door leading to the garage where vehicles are parked. Builders know it's the sink where much time is spent and usually place a window above it for natural light, views of trees (if you're lucky) and lush green yards.
Placing window bird feeders within this view is an optimal spot for catching the great outdoors and nature's happenings without interrupting daily routines. If by chance the deck is off your kitchen or breakfast room, its rails are absolutely perfect for the birds! The feeder need not necessarily mount on the window itself!
A really cool and versatile bracket thing called a deck ring lets you add an instant feeder, or even a bird bath in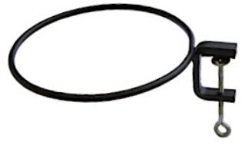 seconds. It clamps on with simple hardware (no tools required) and best of all there's no damage to rails. The sturdy iron ring will accommodate heavier ceramic bowls, as simple plant saucers are perfect for feeders or baths. Say you don't want any mess that birdseed can bring? Opt for fresh water- it's by far the easiest and best way to entice feathered friends! Add a heater to that bowl in winter and the activity promises to mesmerize… it'll be the most popular spot in the yard.
With close-up views like these, you'll see birds from another perspective. Right now many are looking a little sickly with streaked plumage that's half dull and half bright. But it's just the molting process that happens every fall. Birds are shedding old, tattered feathers for new ones to help them through another season of cooler weather.
Entice more feathered friends to your place and liven up the view from that kitchen sink quickly and easily by placing a feeder or bath right on the deck rail.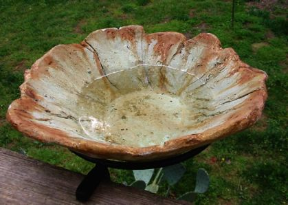 Think there's no room on your deck for a cool birdbath? Think again!
You can create a dramatic and unique focal point with a deck-mounted birdbath. This handcrafted birdbath with an aged copper-patina finish is just plain cool. The organic form and textured detail promises to enhance any setting while attracting avian amigos!
The texture is a plus for birds as it allows them better footing than most slick surfaces. Its sloped sides also facilitate a "walk-in" approach for smaller songbirds and juveniles. Complete with wrought iron deck clamp, installation takes just a few seconds, and the clamp-on design means no holes in the deck rail too.
Fresh water in a birdbath really is the best way to entice more wild birds to your place, and with the rising cost of seed… that's a good thing! The other advantage, is that you can switch out bowls for freezing winter months and create a new feeding station with the same close-up views of your birds. Take an inexpensive plastic plant saucer, drill a few drainage holes, and you've got a winter bird feeder that allows for feeding a variety of treats.
No yard or small yard? This season, try a deck-mounted birdbath, then sit back and enjoy the show!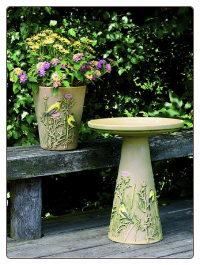 By and large, a fresh water source will attract more birds to your yard! The best single way to entice feathered friends is with bird baths. Many species who may never visit a feeder, or even use a birdhouse to nest, will visit a birdbath with fresh water in it. Many styles will compliment an environment nicely by using design elements that are found in nature itself.
This hand made pedestal birdbath is also hand painted. Cheery Goldfinches perched on graceful branches is such a scene found in nature. These kinds of ceramic baths really do enhance the garden or yard, and bring it to life once discovered by birds.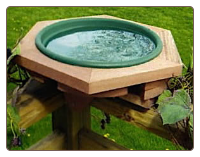 The bath doesn't have to be a pedestal type either, hanging bird baths are also wonderful for attracting birds. And if it's a close-up view you'd like, deck-mount bird baths bring the action right to your window. Hanging and deck mounted bird baths are also perfect for smaller spaces. While birds tend to bathe at ground level in the wild, raised baths are preferred if predators lurk in the yard.
The optimal water depth for bird baths is really only two to three inches. This is the depth where birds can bathe and wade comfortably. If the birdbath is deeper, a large rock may be placed in the center for birds to perch. Adding a birdbath to your yard will positively impact the numbers and different species who will visit…try it and see!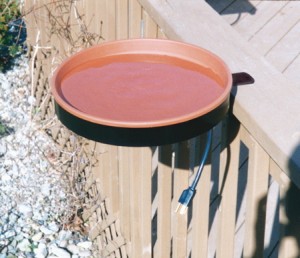 Even though some of us may only have limited space for backyard birding activities, there are a few innovative items sure to maximize that small space.  Bird baths for example, are a great way to attract more species of wild birds, some who may not even frequent birdhouses or feeders.  If you live in an area that sees freezing winter temperatures…heated bird baths make the most sense.  Deck mount bird baths are perfect for the tiniest decks and even apartments with balconies.
During frigid winter months, many folks will stop using birdbaths.  But what about the birds?  Think about it, they still need water to drink and bathe so feathers work properly.  When most baths are rendered useless by freezing temps, birds must work harder and fly farther in search of fresh water.
This is why heated baths make more sense, they're available for birds to use year-round, and with a single purchase, you'll have a summer time, and critical winter fresh water source for feathered friends!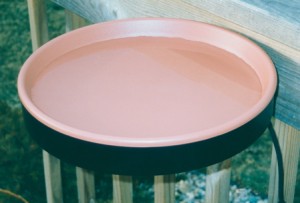 We don't usually think of it, but buying "off season" is known to save money.  With some of the larger companies, many winter biding items go on sale during summer to make room for new products.  If you're a backyard birding enthusiast, this is a perfect time to invest in higher end wild bird accessories.
Even though it's summer, heated bird baths can still be used and enjoyed by many birds and their hosts…sans electricity.  Just tuck the cord away and you now have a birdbath for year-round use.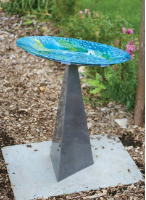 With the rising costs of bird seed these days, it's getting more difficult to keep those feeders filled.  Water is an excellent wild bird magnet! You can attract even a greater variety of wild birds with bird baths, even some that do not frequent bird feeders.
Adding an element of beauty to any landscape, bird baths are available in many styles and colors.  Pedestal bird baths come in copper, concrete, and resin to look like stone without the weight.  Beautiful ceramic and glass birdbaths come in hanging or staked designs too.  If you'd like a more close up viewing experience, deck mount bird baths are a great choice.  Water is very inexpensive, and will allow you to still attract and view many feathered friends!
With spring fever upon us, many folks who enjoy wild birds might be thinking of new bird bath for the season.  There are so many beautiful styles from which to choose, it can get confusing.  Consider first if a hanging, pedestal, or deck-mount model is what you're after as far as yard decor.  Then don't forget about cleaning and maintaining the birdbath, choose something that is easy to clean, fresh water is a must for wild birds in summer time.
The most important factor is depth.  Many birdbaths are really too deep for wild birds to drink and bathe comfortably.  No more than two inches of water is necessary.  If your existing birdbath is too deep, consider placing a large rock in the center for birds to perch.  Also, the Birdbath Raft will turn any container of water into a functional bird bath.
The newer birdbaths feature an uneven, or graduated bottom, the same concept as an inground swimming pool, where you walk in.  This is a great idea and very accommodating for songbirds too.