try a deck-mount birdbath for smaller spaces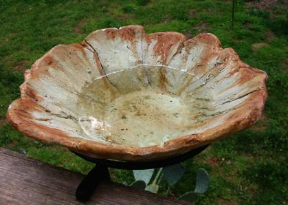 Think there's no room on your deck for a cool birdbath? Think again!
You can create a dramatic and unique focal point with a deck-mounted birdbath. This handcrafted birdbath with an aged copper-patina finish is just plain cool. The organic form and textured detail promises to enhance any setting while attracting avian amigos!
The texture is a plus for birds as it allows them better footing than most slick surfaces. Its sloped sides also facilitate a "walk-in" approach for smaller songbirds and juveniles. Complete with wrought iron deck clamp, installation takes just a few seconds, and the clamp-on design means no holes in the deck rail too.
Fresh water in a birdbath really is the best way to entice more wild birds to your place, and with the rising cost of seed… that's a good thing! The other advantage, is that you can switch out bowls for freezing winter months and create a new feeding station with the same close-up views of your birds. Take an inexpensive plastic plant saucer, drill a few drainage holes, and you've got a winter bird feeder that allows for feeding a variety of treats.
No yard or small yard? This season, try a deck-mounted birdbath, then sit back and enjoy the show!