Want more birds at your nyjer feeder?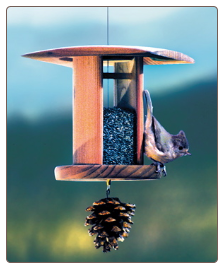 There are no set rules in wild bird feeding, we offer birds different varieties of food that entice them and keep them coming back. Of course habitat plays a huge role, with places for shelter and nesting like mature trees, thickets and shrubs. The all important water source is also a big factor for attracting feathered friends.
Just because finches eat thistle, or nyjer seed, doesn't mean they wont' frequent other feeders offering different seed mixes. For the last few days, I've been seeing Black Capped Chickadees at the nyjer feeder. Now maybe it's just the time of year, but I've never seen them at this feeder before. Also, the juvenile Eastern Bluebirds, who will eat suet during our cold winter months, have already started feeding at the suet feeder too.
A favorite treat for several birds is to mix thistle seed with finely chopped sunflower hearts. Placing this seed mix in the nyjer feeder attracts Juncos, Pine Siskins, Towhees and House and Purple Finches, as well as the Goldfinch.
In early spring, try offering nesting materials and encourage birds to take up residence by nesting in your yard. Collect dryer lint, pet hair, cotton yarns and fibers, and decorative mosses to create a nest ball with variety of materials that birds prefer. You can place them in a standard suet cage, or mesh produce bag from the grocery store. Of course commercial materials are available, and even some cool holders to accommodate them.
Just because the bright yellow feathers disappear in fall, it doesn't mean these birds are gone. Remember to keep nyjer feeders out year round with fresh seed, as goldfinches and others will stick around during during winter months.