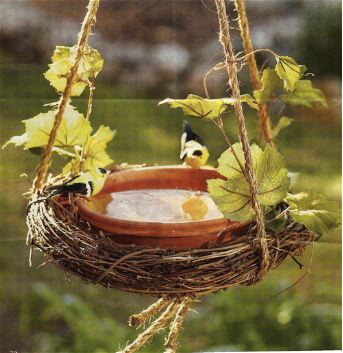 Fresh water is hands-down the best way to entice wild birds to your yard. Birdbaths really do attract feathered friends and keep them coming back… even more so than houses or feeders! Baths can range from pedestal styles to ground or deck mounted models, and of course hanging bird baths. Found in materials like ceramics, stoneware, copper and glass, birdbaths range from simple to elaborate works of art for ultimate garden decor.
You needn't spend a small fortune to have a bird bath though, any shallow container that holds water works just fine for birds. A pretty plant saucer will make a great bathing spot. If ground predators lurk in the area, it's best to raise the bath off the ground. The most important thing is the water be fresh. What's the best kind of birdbath? The one you are willing to maintain.
This clever hanging bird bath can be made very quickly and inexpensively. Necessary materials are rope, a plastic plant saucer and a grapevine wreath, the decorative leaves are strictly optional.
First cut three pieces of rope- 5 feet in leng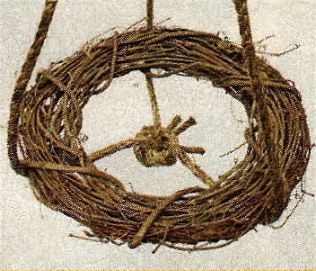 th. Knot them together at both ends, and place the grapevine wreath inside the ropes as shown here. Next place the saucer inside the wreath. If you opt for the decorative leaves, simply tuck them into the wreath and wind them around the ropes. Use more rope for hanging if necessary.
Fill with water and enjoy birds at their new refreshing oasis!