Vibrant & Versatile Mosaic Bird Baths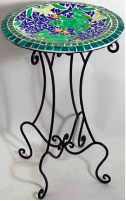 For whimsical designs and vibrant colors, nothing beats the artful designs displayed in mosaic bird baths. With rich hues that are available in many combinations, the choices are endless! Mosaic tiles are durable enough to withstand a birdbath heater in winter, and will not fade or discolor is summer heat. Glazed tiles also help to keep bath water cooler in sweltering summer temperatures.
A pedestal bird bath creates a wonderful focal point in any yard, plus a fresh water source is the most effective way to attract more birds and keep them coming back. Creating a bird-friendly habitat is really quite simple by providing food, water and shelter. Bird houses, bird feeders and bird baths used together will ensure a greater variety of songbirds visiting your yard!