Create Your Own Mosaic Bird Bath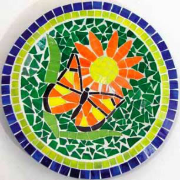 Bird Baths are a wonderful way to view birds in your backyard. A fresh water source will attract more species of birds than bird feeders or birdhouses alone. Water also helps create critical pockets of wildlife-friendly habitat where urban sprawl has taken over the natural landscape.
You can make your own bird bath rather quickly and inexpensively should you be feeling a little "crafty". This great article from Birds and Blooms Magazine explains clearly and simply how to make a mosaic bird bath. With all materials listed, it gives concise, step-by-step directions for creating your own masterpiece. And not artwork to just lay around the house, but something to be used and enjoyed over the years by many feathered friends!
Just copy and paste this link in your browser's address bar:
http://www.birdsandblooms.com/Backyard-Projects/Small-Garden-Projects/Mosaic-Birdbath