Do They Really Use Butterfly Houses?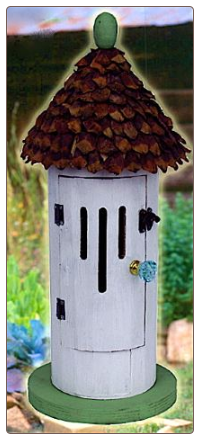 They sure make some very pretty ones, whimsical and artsy types to use in the garden for accents or focal points. But do butterflies really use butterfly houses? I can't answer that question, but never have I actually seen  it happen. Protection from the elements and from predators are the reasoning behind it, and it makes perfect sense, but…who really knows?
I can say there are tons of butterflies in my yard now, hovering around the usual lantana and butterfly bush. The mature abelia with its tiny pink flowers seems to be a favorite as well. The big attraction for the flying jewels has got to be the leaf misters. There are two of them in the yard, one is simply staked in the ground with an old plant stake, and the other sits off the front porch attached to a deck bracket. Our butterflies absolutely love the gentle mist they produce. Flying through them all day in the extreme Georgia heat must be a relief for them. Lots of Swallowtails, we're even seeing more Monarchs this year.
And by the way, how did they get their name "butterflies"? Butter doesn't fly – so what gives? I think someone messed up and should have called them flutterflies!