Bluebirds and Bat Houses?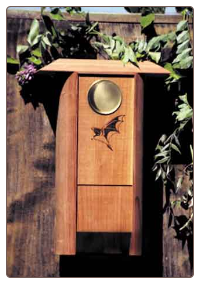 Today the post was planned for bat houses, and this Colony bat house accommodates dozens of mature bats and their offspring. You can control mosquito populations around your yard  by inviting little brown bats to take up residence.
And that's all for bat houses, because I was more excited about my bluebird fledglings today! For the first time ever, I was lucky enough to witness all four babies inside the mealworm feeder at once. What a rewarding moment, to finally see them enter the feeder themselves and learn to retrieve the worms. We had 2 successful broods this season, with three fledglings and then four.
First on the scene was a female baby, and since she was all by herself, it caught my attention. As I went to sit outside with the binoculars, she flew off, but I was able to spot her perching high above in the pine tree. Several minutes went by, and no signs of the family. First thought is always, I hope they're okay?
I went inside to feed the critters, but kept watching out the kitchen window. A juvenile male appeared (from the first brood) and sat on top of the feeder. Then they all came, numbers one, two three and four! The older brother entered the feeder, and a few seconds later a baby male went right in. The other three flew from the nearby shepherds' hook and sat on top for a few seconds. One by one, they hopped on in! Now there's five birds inside the feeder, and I'm thinking: "how are they going to get out?" It was very crowded in there! Next came daddy, the adult male landed on he shepherds' hook as if to say "good job!" Then one by one, just as they had entered, they flew out.
It was one of the best sightings this season, and I'm just so sorry that I couldn't catch it on film, because it was all just so perfect!