Bird Baths Will Have Them Flocking!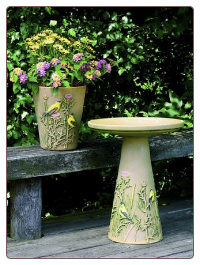 By and large, a fresh water source will attract more birds to your yard! The best single way to entice feathered friends is with bird baths. Many species who may never visit a feeder, or even use a birdhouse to nest, will visit a birdbath with fresh water in it. Many styles will compliment an environment nicely by using design elements that are found in nature itself.
This hand made pedestal birdbath is also hand painted. Cheery Goldfinches perched on graceful branches is such a scene found in nature. These kinds of ceramic baths really do enhance the garden or yard, and bring it to life once discovered by birds.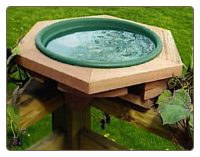 The bath doesn't have to be a pedestal type either, hanging bird baths are also wonderful for attracting birds. And if it's a close-up view you'd like, deck-mount bird baths bring the action right to your window. Hanging and deck mounted bird baths are also perfect for smaller spaces. While birds tend to bathe at ground level in the wild, raised baths are preferred if predators lurk in the yard.
The optimal water depth for bird baths is really only two to three inches. This is the depth where birds can bathe and wade comfortably. If the birdbath is deeper, a large rock may be placed in the center for birds to perch. Adding a birdbath to your yard will positively impact the numbers and different species who will visit…try it and see!