Super Sized Peanut Bird Feeders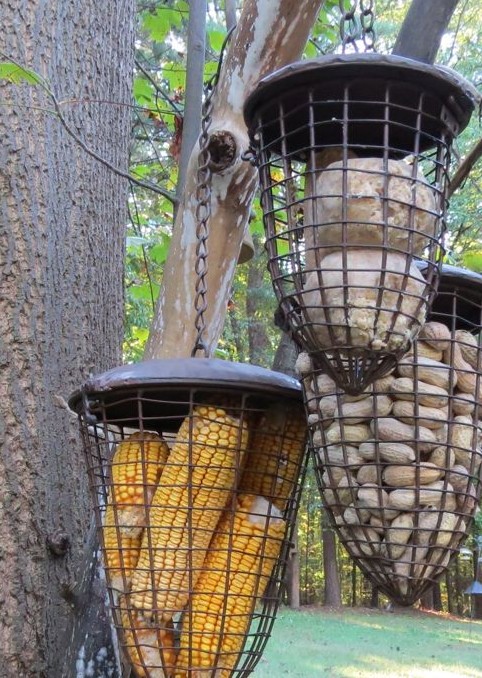 Lots of birds (and squirrels) adore whole peanuts, especially in colder weather- they pack a punch for higher nutritional value than seed alone. If you'd rather keep squirrels out of peanut bird feeders a baffle is highly recommended!
Ideal for feeding whole peanuts, this wire basket set is versatile for lots of other goodies too. Use these for suet, corn cobs, nesting materials in spring, and even fruit in summer for migratory birds. Use all 3 for peanuts and hang them in different spots around the yard to entice more feathered friends! They feature a long hanging chain with big hook for easy placement (plus enough chain length to accommodate a baffle). The locking lid will keep thieving paws out, and the solid roof helps protect goods from the elements.
There's also a tube style stainless steel version for whole peanuts which offers an optional seed tray. Inviting more than clinging birds, jays and other can perch in comfort on the 10-inch tray while it helps to catch waste.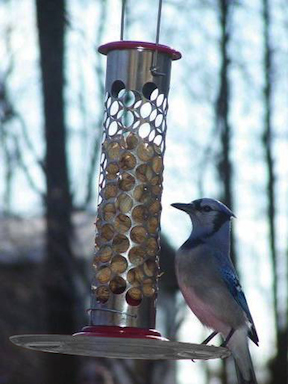 It's actually dubbed as a suet ball feeder, but the large openings are perfect for whole peanuts. So you can really offer a variety of treats in one feeder, mixing some suet chunks or balls between peanuts to delight many a species! Clingers like chickadees, nuthatches, titmice and woodpeckers love this stuff, as well as jays, bluebirds and cardinals (in winter), phoebes, warblers… and the list goes on!
Branch out from traditional feeders filled with boring birdseed and see who comes to visit? And as always, fresh water is key to bringing more birds to the garden. Even during frigid weather, songbirds will absolutely flock to a heated birdbath.