Not Your Average Tube Bird Feeder

When it comes to a tube bird feeder, they needn't be straight or boring, some have spirals instead of perches while some may offer "all-over" feeding space. The amount of bird traffic in your yard may help decipher best size and style, and of course aesthetics!
For optimal bird attraction and the widest variety of species, you can't miss with black oil sunflower seed. We like using the hearts or meats as they leave less ground mess below feeders. More birds are likely to chow down as there's no hull to crack, there's literally no waste with this pure seed. The Wave Tube Feeder is a groovy variation of the boring straight tube style. It's available for both black oil sunflower and thistle (or nyjer seed). Handcrafted in the USA, its cedar construction makes it durable for years of use.
Thistle seed, also known as nyjer or nyger, attracts goldfinches, house and purple finches, red polls, buntings and other finch-family birds. It won't make make too much of a mess either as it's a non-germinating seed. Hulls may accumulate, but they're tiny and won't sprout weeds. It's also a great offering to attract even more friendly fliers to your place.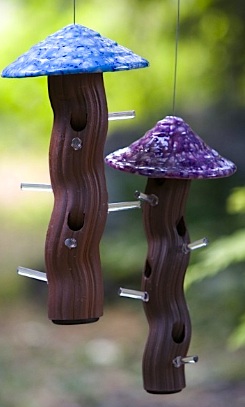 These mushroom top ceramic tube feeders are equally groovy, adding a whimsical splash of color to the landscape. Many a songbird would be happy to perch here for a meal on cold winter days! Cold? Yes, these feeders are frost-proof via process of twice-firing. They're safe outdoors year-round, also handcrafted in the USA. The colors run the rainbow from cherry bomb to funtasmic blue… and everything in between!
Protect your feeders from thieving destructive squirrels with a baffle, it's only thing that really works to deter the critters. Birds dine in peace and hosts have less head aches. Place feeders so that squirrels can't gain access by jumping sideways from something too. Feeder placement is always key in winning this war!
More so than any type of feeder or birdhouse, fresh water entices more birds everyday throughout the year. Even in frigid weather, they'll flock to a functional bath. Adding a heater to your existing birdbath (instead of turning it over for winter) will bring birds on the greyest, coldest days of winter… brightening your day too!