Peanut Bird Feeders that Rock
Give birds peanuts… because variety is the spice of life!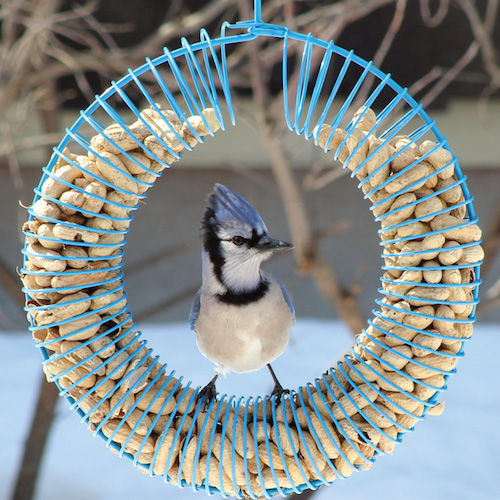 Be it shelled or whole peanuts, birds love them and for good reason. They pack a real punch for nutrition and likely for taste, but you'd have to ask a bird on that one.
Simply put, Calories = Energy, so especially for cold weather feeding, peanut bird feeders are always a good bet. That energy is what keeps birds warm overnight. Ever wonder why many resident birds feed from dawn till dusk? The goal is to store enough energy to make it through a frigid night.
The Wreath Peanut Feeder above is meant for whole peanuts, but it's easy to pop a suet ball or two inside for more variety. The design is very bird-friendly and even lends itself for other options.
In early spring, it's ideal for nesting materials. Start saving your pet's hair from their brush now. Decorative mosses and feathers are also prime materials for nest construction by most of the usual suspects. Steer clear of dryer lint- though it may seem soft & fluffy, it contains synthetic material that's just not found in a birds' world.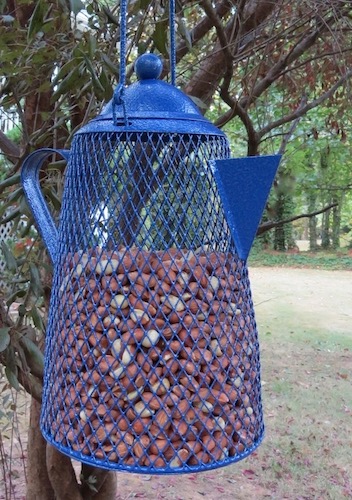 Say you could do without the mess of peanuts in the shell? Opt for a feeder that's made for shelled peanuts. Most of these will accommodate black oil sunflower seed so you can still change it up, enticing more birds to your place.
The large capacity mesh design offers lots of all-over feeding space. Most styles also lend themselves to doing the nest materials in spring. Adding suet may not work as well in shelled peanut bird feeders as there's nothing to hold it at the outer wall for easy access – though you'll likely be able to do black oil sunflower for variety.
Regardless if shelled, or peanuts in the shell, birds will flock for this tasty treat year-round. Expect woodpeckers, jays, titmice, chickadees, nuthatches, bluebirds and others at shelled peanuts. Expect squirrels at all peanut feeders… in which case a baffle is highly recommended 🙂