peanut bird feeders in winter (and peanut butter)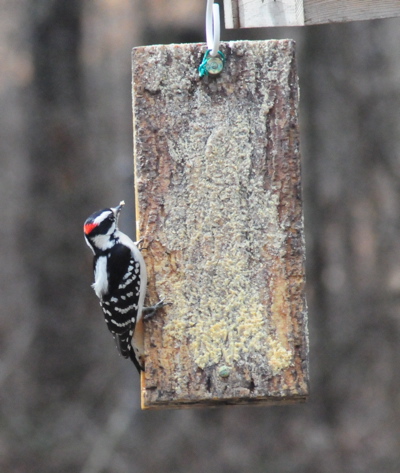 In our backyard there are more than enough bird feeders which accommodate many species! But when a cool feeder comes along… well, sometimes ya just can't resist.
Although the woodpeckers, nuthatches, jays and more have they're own peanut bird feeders, we've found that peanut butter is also huge hit in frigid weather. And it doesn't require a fancy feeder, or any kind feeder at all!
This innovative woodpecker feeder actually holds suet slices in between the two resin, "bark-like" panels, thus the name Suet Sandwich Feeder. On really cold days, we'll smear peanut butter on the the outer panels as an added bonus, and the birds love it!
With the same idea, peanut butter is also fed to squirrels – smeared right on a few tree trunks in the very back of the yard. It definitely keeps them occupied and they love it too, in fact the squirrels fight over it! Loaded with fat and protein, peanut butter packs in extra calories for furry and feathered friends alike. The calories are converted to energy which help them stay warm in freezing temperatures.
Several types of common feeders may be turned into peanut bird feeders for cold weather. A standard suet cage works great for whole peanuts, platforms and dish feeders will accommodate shelled or whole peanuts, and many hoppers will take a seed mix with peanuts added to it.
Change up the ho-hum feeding routine this winter by offering peanuts or peanut butter to your beaked buddies. You won't even need a peanut bird feeder to do it!