window bird feeders to foil squirrels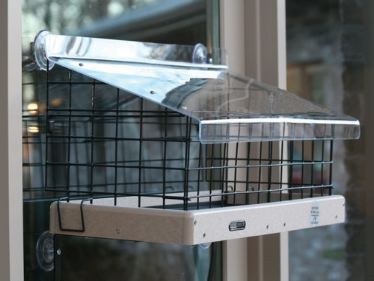 So you'd like to see feathered friends close up, but those darn squirrels always seem to find your window bird feeders! It's an easy enough target, shimmy right on up that wall and the feast is right there for the taking. And the problem is that once they zoom in on the prize – forget it! Your seed's a goner no matter how much is put out for the birds.
Enter this nifty little accessory, the cage by BirdsChoice. The powder coat metal grid will keep larger and bully birds out, while also denying squirrels access to the seed. Get your chickadees, titmice, buntings, finches nuthatches, and more… close-up and personal!
Appearances might have it that the feeder seems too big or heavy to be stuck on the window-nonsense! Because of an innovative bracing system, and super strong suction cups, these window bird feeders are the bomb! The base is done in recycled plastic, which means it will never warp, split, crack, or fade. The non-porous surface not only makes cleaning a snap, but it helps prevent the spread of disease, as harmful bacteria can not penetrate its surface.
Filling this window bird feeder? Simple! Just lift the lid on the acrylic cover to fill with your favorite seed mix. These new window bird feeders come in two sizes, with the larger tray measuring a whopping 22 inches by 9 inches, that's some major real estate at the window!  The smaller tray (still a generous size for a window feeder) measures 11 x 10 inches. The cages and acrylic covers are relevant and proportional to each size feeder. No "one size fits all" with these high quality window bird feeders, they're perfect for small yards or no yards at all.