why many a glass bird feeder aren't glass at all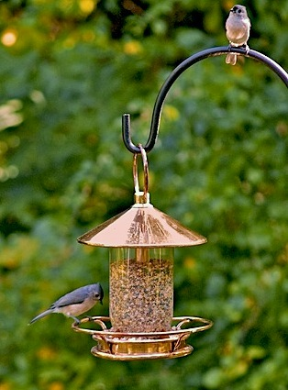 Take one classic bird feeder, craft it in solid copper, and add a circular perch… viola! You get the "Classic Copper Perch". Yesterday a customer had inquired if the tube was glass, and to be honest, I had to open the box and inspect the feeder for the correct answer. It was not a glass bird feeder in fact, but a very thick poly-carbonate, or resin tube.
Now these feeders are considered higher end, and the person seemed a bit disappointed that it was "plastic". And me too… until I started thinking about it.
Gone are the days of cheap plastics which yellow over time (except on cheap feeders). Very few feeders and houses use real glass, for a myriad of reasons: First and foremost is breakage. Be it pesky squirrels, or even a butter fingers accident, should a glass bird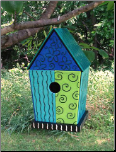 feeder fall on concrete – it's likely a gonner 🙁 Second: on birdhouses, glass would create an oven-like atmosphere during the heat of summer, making it too hot inside for nestlings. We feature an artist who does a wonderful fused glass birdhouse in vibrant colors, but the glass is actually fused to a real wooden nest box with proper ventilation.
Glass bird feeders like those crafted by Parasol are mostly for hummingbirds, and the hand-blown glass seems thicker and stronger than manufactured clear glass. Same for ceramics and stoneware, it seems more durable and stronger than mass-manufactured glass.
Whatever the material of your bird feeders may be, keeping them clean is important to birds' health. And always take precaution against Houdini squirrels… they're brutal!