Not So Boring Nyjer Bird Feeders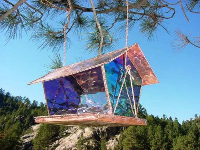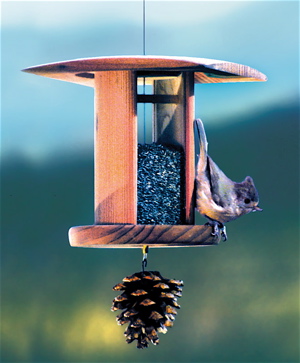 Traditionally, nyjer or thistle seed has preyty much been confined to the tube feeder…but it doesn't have to be. Nowhere is it written in stone that nyjer bird feeders must be tubular in design!
And here's one I don't really understand: caged nyjer feeders. Not many larger birds enjoy thistle seed. Right now there's a spell (brief I can only hope) of the peskiest starlings in my yard and they don't go near the nyjer bird feeder. Squirrels don't like either, and that's one of the beauties of feeding this non-germinating seed.
The stained glass and copper bird feeder shown here holds approximately 5 pounds of nyjer seed, which is a generous capacity. And unlike tube feeders, there's never any clumping, damp seed at the bottom to be tossed and wasted. This feeder is hand made and absolutely gorgeous! The wooden Songbird Lanterns are stylish Nyjer Bird Feeders with modern architectural appeal. The attached pine cone even serves as an extra treat when suet is added to it.
Ditch the tubes if you're looking for something truly unique, with quality that will last for years. Nyjer Bird Feeders make wonderful gifts for any backyard birder or nature enthusiast…for any occasion! A gift to be used daily, that gives back to nature, and is enjoyed by birds and their hosts alike. Never any worries of re-gifting with a high quality bird feeder!