looks just like a copper bird feeder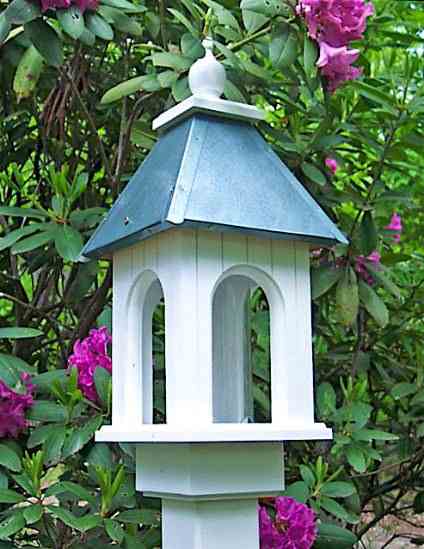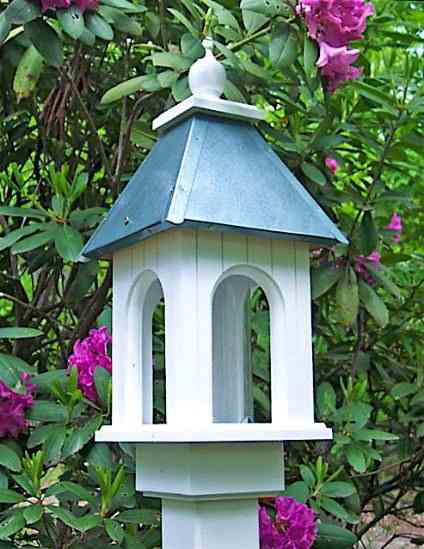 Two things a good feeder should do: feed the birds and last! Of course if it's pretty and adds curb appeal, well… that's a bonus!
An elegant and more economical option for a copper bird feeder would be a galvanized metal, or aluminum surface. With custom finishes that look like patina or bright copper, it's hard to tell the difference. Aluminum won't rust – think about an airplane? In the same durable vinyl/PVC, as our copper roof bird feeders, these gazebo styles will grace the landscape with simple elegance. Clean, architectural designs are pleasing to the eye and offer great functionality for feathered friends. Handcrafted in the USA, they're built to last!
And speaking of economical, sometimes the cheapest seed is not always best! Stuffed with fillers like milo and millet, much of it is likely to end up on the ground as birds forage for the "good stuff". Better off buying the good stuff in bulk quantity as it costs less per pound. Using a no-waste mix, or sunflower hearts will also eliminate ground mess below the feeder. Another benefit: premium seed reduces the risk of unwanted visitors! The best deal on this type of birdseed can be found at most feed & seed stores.
With all the rain we've had in the southeast, it's common for birdseed that sits too long in feeders to become moldy… another waste of money. If birds aren't consuming it quick enough – only fill the tube halfway. Better to make an extra trip to the feeder than to the trash! If it's moldy, they won't eat it, or if they happen to, birds will become sick with respiratory disease that spreads easily to the rest of the population around the yard. Often times, these diseases are fatal.
Your birds are waiting! So take 10 minutes to clean your feeder and fill with fresh seed 🙂