Archive for the 'Gazebo Feeders' Category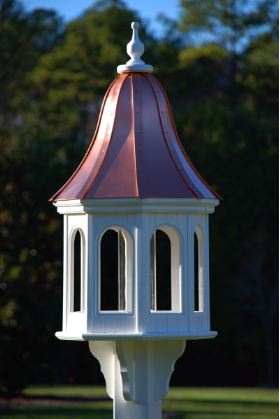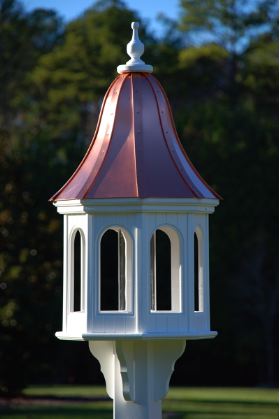 Give dad a gift he'll really enjoy and use… like everyday!

If he's a nature kind of guy who enjoys the outdoors and especially birds… these feeders are the bomb! Crafted with utmost quality, of durable vinyl/PVC. So what's the big deal about vinyl? It absolutely lasts!
These copper bird feeders are guaranteed for life, they'll never rot like wood, warp, peel, split, crack or mildew. What you see is what you get too. The vinyl mounting collar below the base slides right on a 4×4 post, doink… done! The decorative brackets are already attached, even the finial on top won't wear because it's not wood. The surface has texture so it doesn't look like plastic, a few folks have sworn these were wood!
The copper stays bright for about four years before it even begins to weather, turning pretty dark before ever displaying the slightest hint of green. A copper lacquer may be applied if bright and shiny is your thing, say in 3 or 4 years down the road.
Like that pretty patina color? Got ya covered with this version!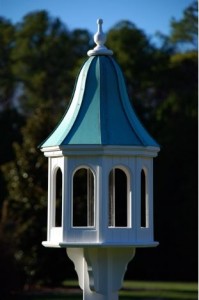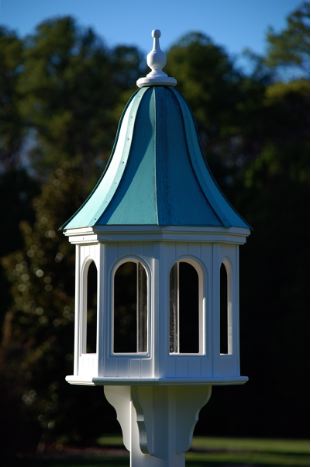 Its a rather large feeder and requires a good bit of space to display its elegance. Gazebo feeders like these are bird-friendly as seed stays protected from the elements, and birds are sheltered while eating.
A new large capacity feeder is done in a hopper style as opposed to the center feeder tube. The copper hopper's huge and holds ten or twenty pounds of seed, depending on the model (two sizes). Yep, 10 lbs. of seed without having to refill as often. And if that's not enough options, the hopper feeder comes in post-mount and hanging designs.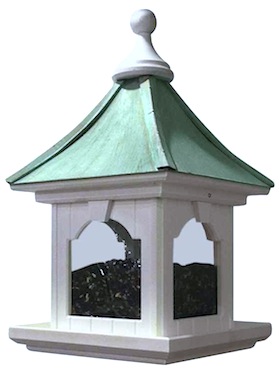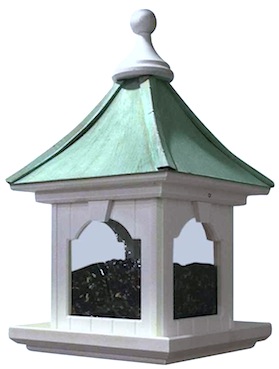 Take 10% off these copper bird feeders – or any others with promo code MC10. Good through 6/30/14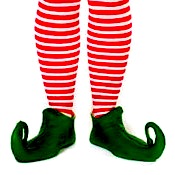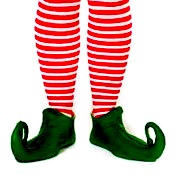 Our elves are definitely NOT on shelves... they're busy rockin' out the coolest holiday gifts yet!
If you've waited a little too long to decide on a way nice, impressive gift for that special someone… don't fret. Sometimes good things really do come to those who wait, because instead of settling, you just know when you've found the right thing.
In stock and ready to ship Monday, you'll find a stunning copper bird feeder or two… or three! So what's the big deal about them? Well, anyone who feeds birds would admire them for their durability, their handsome architectural form, and most of all for their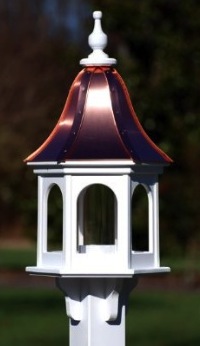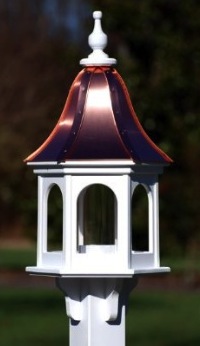 functionality. Sure all feeders are basically functional… but to varying degrees – believe us on this one! Backyard birding fanatics for 25 years, we've seen all sorts of feeders come and go. We've tossed a few in the garbage, and have our favorite going on 18 years of use. For a classic look in a traditional gazebo style feeder, you won't find a nicer model on the market (shown at right).
Should the mod flavor be more your style, then don't miss the Spiral Copper Bird Feeder. In small or large, it's sculptural art for the garden.
Also handcrafted in the USA, this flowing design has no start or end. The larger top portion serves as a weather guard to protect food and birds from the elements. An open dish design is most versatile,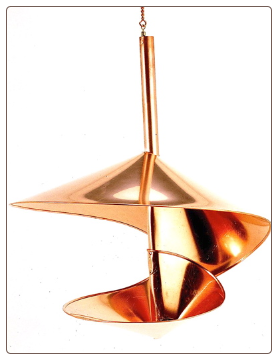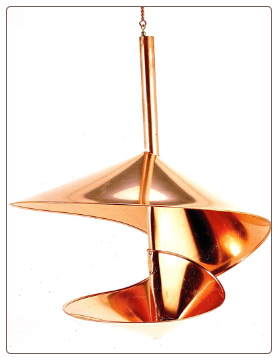 allowing for a bevvy of offerings like seed mixes, suet chunks & nuggets, peanuts, even fruit in summer for migratory friends.
And yet one more fitting the bill by the same master metal smith, it's basically for shelled peanuts. This architectural copper feeder has clean lines and a perforated screen with a solid roof to protect its cache for clingers and others to enjoy. Equally versatile for fruit and suet, home-made nesting materials work beautifully for early spring. These will entice feathered friends to take up residence at your place. Decorative mosses, pet hair, and feathers are a few favorites!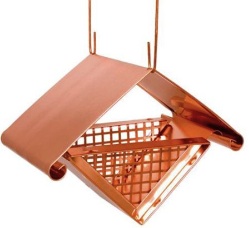 Now if you want it badly enough by Christmas-and are willing to pay the gazillion dollars for overnight shipping… we'll get it to FedEx in time! But think of how much premium seed that same money could buy for your new feeder?
Here's the plan: print out the picture, find the biggest box possible with the nicest bow, wrap up the picture and set it under the tree for Christmas morning. With full confidence we'll guarantee some oohs and aahs with ear to ear smiles!
Merry Christmas to you and yours and happy & healthy 2014!
and thanks for feeding the birds 🙂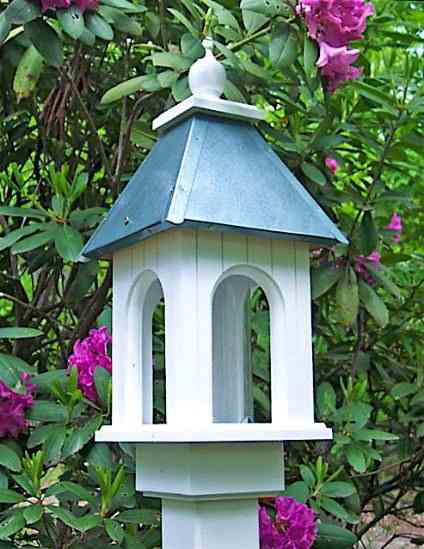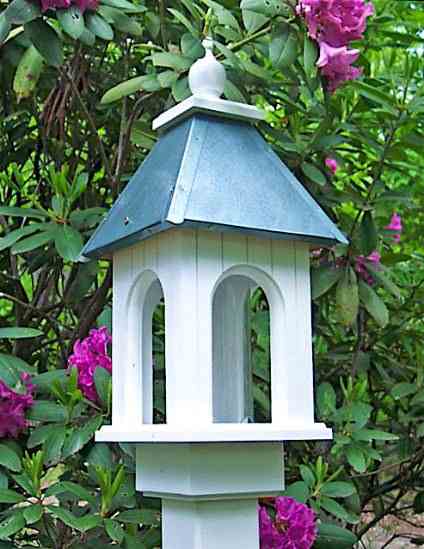 Two things a good feeder should do: feed the birds and last! Of course if it's pretty and adds curb appeal, well… that's a bonus!
An elegant and more economical option for a copper bird feeder would be a galvanized metal, or aluminum surface. With custom finishes that look like patina or bright copper, it's hard to tell the difference. Aluminum won't rust – think about an airplane? In the same durable vinyl/PVC, as our copper roof bird feeders, these gazebo styles will grace the landscape with simple elegance. Clean, architectural designs are pleasing to the eye and offer great functionality for feathered friends. Handcrafted in the USA, they're built to last!
And speaking of economical, sometimes the cheapest seed is not always best! Stuffed with fillers like milo and millet, much of it is likely to end up on the ground as birds forage for the "good stuff". Better off buying the good stuff in bulk quantity as it costs less per pound. Using a no-waste mix, or sunflower hearts will also eliminate ground mess below the feeder. Another benefit: premium seed reduces the risk of unwanted visitors! The best deal on this type of birdseed can be found at most feed & seed stores.
With all the rain we've had in the southeast, it's common for birdseed that sits too long in feeders to become moldy… another waste of money. If birds aren't consuming it quick enough – only fill the tube halfway. Better to make an extra trip to the feeder than to the trash! If it's moldy, they won't eat it, or if they happen to, birds will become sick with respiratory disease that spreads easily to the rest of the population around the yard. Often times, these diseases are fatal.
Your birds are waiting! So take 10 minutes to clean your feeder and fill with fresh seed 🙂