Elves are Rockin' a Copper Bird Feeder or Two!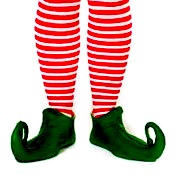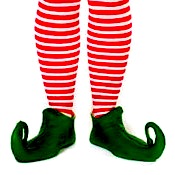 Our elves are definitely NOT on shelves... they're busy rockin' out the coolest holiday gifts yet!
If you've waited a little too long to decide on a way nice, impressive gift for that special someone… don't fret. Sometimes good things really do come to those who wait, because instead of settling, you just know when you've found the right thing.
In stock and ready to ship Monday, you'll find a stunning copper bird feeder or two… or three! So what's the big deal about them? Well, anyone who feeds birds would admire them for their durability, their handsome architectural form, and most of all for their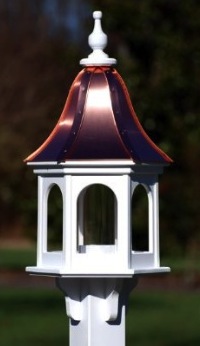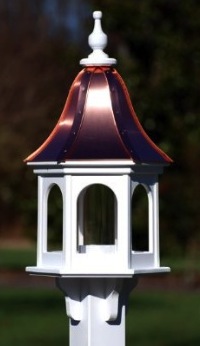 functionality. Sure all feeders are basically functional… but to varying degrees – believe us on this one! Backyard birding fanatics for 25 years, we've seen all sorts of feeders come and go. We've tossed a few in the garbage, and have our favorite going on 18 years of use. For a classic look in a traditional gazebo style feeder, you won't find a nicer model on the market (shown at right).
Should the mod flavor be more your style, then don't miss the Spiral Copper Bird Feeder. In small or large, it's sculptural art for the garden.
Also handcrafted in the USA, this flowing design has no start or end. The larger top portion serves as a weather guard to protect food and birds from the elements. An open dish design is most versatile,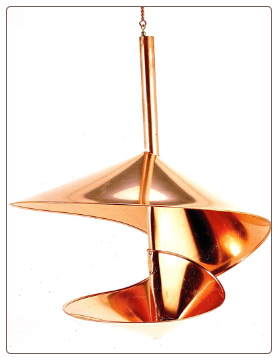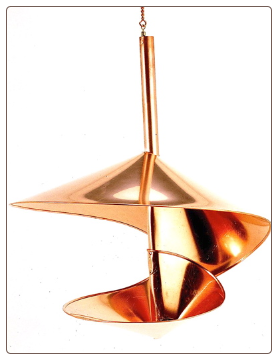 allowing for a bevvy of offerings like seed mixes, suet chunks & nuggets, peanuts, even fruit in summer for migratory friends.
And yet one more fitting the bill by the same master metal smith, it's basically for shelled peanuts. This architectural copper feeder has clean lines and a perforated screen with a solid roof to protect its cache for clingers and others to enjoy. Equally versatile for fruit and suet, home-made nesting materials work beautifully for early spring. These will entice feathered friends to take up residence at your place. Decorative mosses, pet hair, and feathers are a few favorites!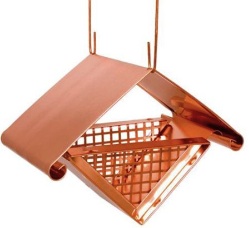 Now if you want it badly enough by Christmas-and are willing to pay the gazillion dollars for overnight shipping… we'll get it to FedEx in time! But think of how much premium seed that same money could buy for your new feeder?
Here's the plan: print out the picture, find the biggest box possible with the nicest bow, wrap up the picture and set it under the tree for Christmas morning. With full confidence we'll guarantee some oohs and aahs with ear to ear smiles!
Merry Christmas to you and yours and happy & healthy 2014!
and thanks for feeding the birds 🙂