Big Balls and a Dovecote Birdhouse
It's the Mother of all birdhouses ever, our biggest, nicest, most stunning dovecote birdhouse. In fact it's so stately, a small yard just doesn't cut it! It takes some space to let its grander shine.
Dubbed an Estate Martin Birdhouse as it measures over five feet tall and almost two feet wide… now that's big!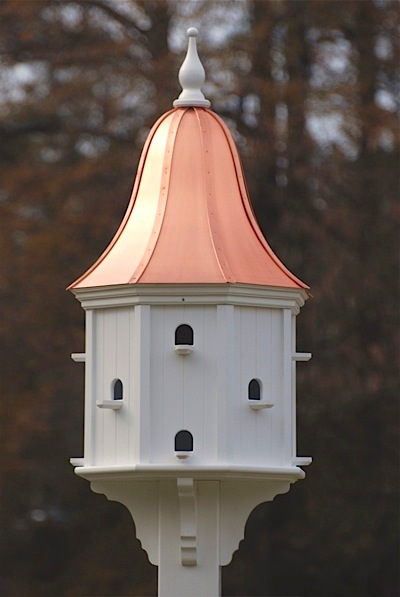 If you're still looking for something to really impress your special someone, this large bird home is the bomb!
A birdhouse that's absolutely guaranteed to last a lifetime (with little to no maintenance whatsoever). Because it's crafted of vinyl, it never rots, splits, cracks or fades. A damp cloth with soapy water is all that's needed to clean environmental build-up from the surface.
The amazing copper roof comes in your choice of shiny, bright copper, which remains that way for 3-4 years before starting to weather, or an aged patina finish. Copper actually gets darker with age-a brownish tint before you ever see a hint of of that natural patina color. Some folks prefer to omit the special lacquer seal so the copper weathers quicker to match trim on their own residences.
Oh yeah… and the big balls? We have them too! Individually boxed they measure 6×6 with a glossy finish. Bold graphics make them fun ornaments to give-or keep for your own collection.
Both the big house and big balls are available for immediate delivery… in time for Christmas!
Put a smile on a bird's face today and save 10% on everything at our place!
Just use promo code mc10 at checkout.
and the happiest of holidays to you and yours!