dovecote birdhouse for major curb appeal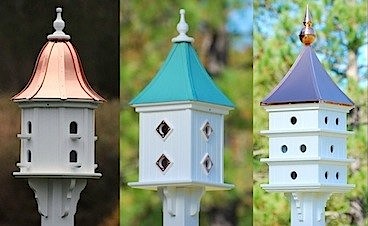 A repeat customer phoned the other day asking about some more birdhouses for his beach residence. Frank had ordered four of these stunning birdhouses and feeders in the past, and was so pleased with the quality he wanted to replace some wooden houses that had seen better days and deteriorated over the years. Thing is… Frank doesn't really like birds!
Learning this the first go-round, the standing joke became "have you filled those feeders yet?" Frank even asked how to keep the birds OUT of the dovecote birdhouse. After my initial disbelief had settled, I soon realized that not everyone's into birds – folks were ordering these houses and feeders simply for the curb appeal factor. And that's okay because it's a product made in the USA with a lifetime guarantee.
These houses look new years after installation, in fact, the textured PVC looks so much like wood, we've had customers phone to say they'd received a wooden house – instead of the vinyl one they ordered! A testament to the beauty and quality of these architectural structures.
So, to each his own, if you like a dovecote birdhouse enough to keep as a lawn ornament, then why not? It's guaranteed to grace the landscape with elegance for many years to come… birds or not!