It's Not a Tray, not a hopper, nor a tube bird feeder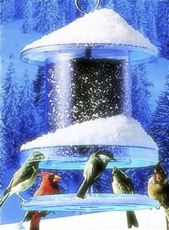 It's deemed the "All Weather Feeder" and rightfully so!
An innovative design keeps seed dry- no matter what! Rain, snow and sleet can not penetrate this durable feeder because unlike a typical tube bird feeder, the seed ports are totally protected from the elements, even from driving, blowing rain.
Birds perch on a generous seed tray, and eat seed from above. The design consists of a built in weather guard, that overhangs and protects seed ports (and birds too). The All-Weather Feeder is available in a four or 6-quart capacity, and may be pole mounted or hung. There's also an optional squirrel guard, or cage that fits around the open feeding area to keep pesky squirrels out! Stainless steel construction along with sturdy polycarbonate casing means this feeder won't yellow with age either.
The optimal seed for this cool feeder is black oil sunflower, or a mix of safflower and black oil. Striped sunflower is actually too large for the seed ports. If you're looking for a truly weather-proof bird feeder, this is it! By the way… it ships for free too 🙂