These are cool birdhouse kits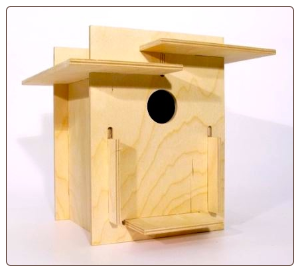 With ultra-clean lines and sleek style, these cool birdhouse kits are meant for birds… and the creative process!
A fun project for kids and adults, the Box for the Birds requires no tools or glue. Sturdy wooden birdhouse kits are an excellent medium for creative, and purposeful activity! With a critical shortage in nest sites, (due to increased competition from non-native birds and the decrease in natural habitat) birdhouse kits provide real nesting and roosting spots for feathered friends.
This birdhouse kit is called the Right (as in Frank Lloyd Wright) because it's modeled after the famous FallingWater House in Mill Run, PA. Pretty cool, huh? You can stain, paint, and decorate as desired… the birds will love it, as it's sure to host many successful broods over the years!
Check out the video below of the story behind Box for the Birds.