Hey Atlanta… Copper Roof Birdhouses Make Killer Valentine's Gifts!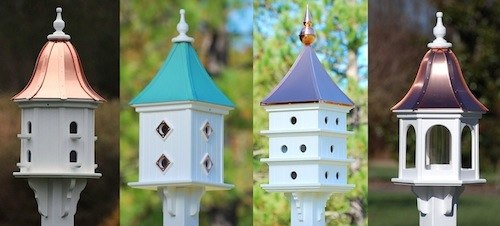 Happen to be local around Atlanta?
Then you're in luck for the best Valentine's Day gift ever!

Appropriate for him, for her, and of course the birds, our copper roof birdhouses are simply stunning and superb quality… and we'll even deliver the larger ones personally- with discounts available (but you gotta call us first).
Post-mounted with majestic appearance, the real beauty lies in their PVC construction. Although these birdhouses and feeders look like wood… you'll find none is used. The decorative brackets are vinyl and the finial is a composite resin. It means these fine bird abodes will never split, crack, rot, fade or mildew. Impervious to insect damage too, all roofs lift easily for either nest removal or filling the feeders. Complete with drainage and ventilation for cozy nests, they're virtually maintenance-free! We can even save you on the handsome post cover too- just ask!
Make this Valentine's Day super special with a copper roof birdhouse that's guaranteed to last for life. Available from bluebird to martin size (estate)- which does require some space. By the way, martin scouts have been spotted in northern FL, filtering into GA, AL and SC already. Come on Spring!
Flowers are nice but it's not too late for something great. Show some love with an architectural birdhouse for the landscape. It adds curb appeal and promises to have birds, neighbors and your special Valentine saying wow!

866-478-8265