Wild Bird Feeders that Do More- On Sale!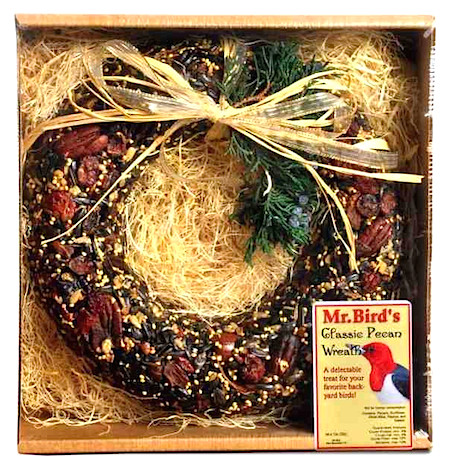 How awesome to still see the sun out at 6:00 p.m. The days are getting longer and spring is officially 50 days away. It's leaves, buds, rebirth and nesting… sweet new happenings for gardens and wildlife!
Though cold temperatures and snow may persist, once birds are ready to claim territories and find mates… the weather is inconsequential. Such rough starts aren't always successful, but alas Mother Nature is resilient.
Good food helps, so filling wild bird feeders could mean the difference between life or death in some locales. Folks who monitor bluebird trails have reported starvation (in late winter-early spring) as cause of death many times, because natural food sources are unavailable. Simply put, food helps keep birds warm in frigid weather.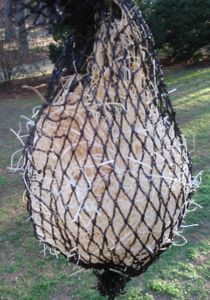 These deluxe fruit & nut wreaths offer a power-packed snack for many friendly fliers. Premium ingredients means no waste and there's even more than meets the eye.
The straw packing is awesome nesting material, cut the raffia bow and remove gold ribbon and there's more nest material. Cut these strips short (for nestling's safety) and use the black net that's enclosed to offer materials. Simply hang from a branch where birds will see it.
Got a cat or dog? Save the hair from their brush! Add these to your home-made nest bag to delight chickadees, titmice, nuthatches and others. Decorative mosses and feathers are a few more favorites, but natural is always best. Even birds who don't use houses (cardinals, jays, finches) will likely grab a bit for their nests too!
Steer clear of dyed or preserved material, and if Fido or Fluffy is being treated with flea/tick medications… nix the pet hair. If you reside anywhere near a farm or stables, ask if you can have some horse, goat or alpaca hair. They may look at you like you're crazy- but hey, it's all for the birds 🙂
So there you have it, a killer wild bird feeder for now- containg some very bird-friendly packaging for spring… and they're even on sale!