Great Variations on Hopper Bird Feeders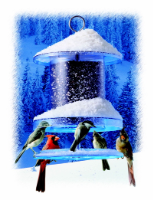 This unique Hopper Bird Feeder's weatherproof design guarantees birdseed will stay 100% dry and available to your birds continuously. Through rain, snow, sleet and ice, the All Weather Feeder delivers the seed-DRY!!
Allowing full view of all birds at once, they feed from a lower platform, and reach up into a fully-sheltered slot to get seed.   A great, and innovative feature for those who hate the mess of cleaning out ice, snow, and rain from the troughs and seed ports of other feeders.  Fathered friends benefit from seed always being available — which is especially important after ice storms — and from better sanitation due to no wet, moldy or spoiled seed.  Clean, dry seed means a healthier population.  Durable polycarbonate won't yellow with age, and large capacity 4 or 6 quart models are available.
Get ready for winter weather with the All-Weather Hopper Bird Feeder.