Get 'em Ready: Decorative Bird Houses and Then Some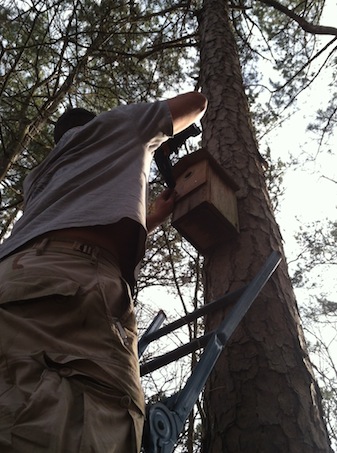 Okay, so maybe this one's not so decorative, but it's popular among downy woodpeckers. In time for nesting season 2014, it's getting a facelift complete with metal predator guard… thanks to squirrels, and my neighbor, Tom. Because the guard was attached without measuring the roof line (duh!) he re-fashioned it to fit perfectly under the roof. Our downy's say thank you!
Although it may not seem like it… nesting season is under way! Even though there's still snow, bird's instincts tell them it's time. With just a day or two of warmer temperatures and sunshine, there's already less activity at feeders and more time spent scouting and claiming nest boxes.
So it's time to get all possible nesting spots ready for vacancy! You may have to drag your ladder through the snow… what? You're not crazy like us? Remove old nests, and be sure boxes are in good repair, securely attached to their mounts, with no loose or questionable parts. If the entries have been damaged or enlarged, simply attach a predator guard to remedy. Your birds will be pleased 🙂
Here's one of our new decorative bird houses that won't need repair because it's vinyl and comes with metal predator guards already attached.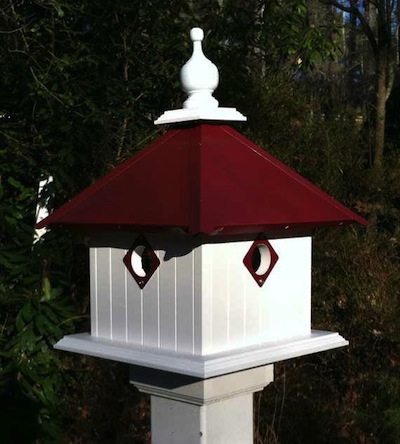 In a stunning Merlot color for spring, it's like a two-for-one, it will host two families in the dual nest compartments. Four entrances with two bedrooms are perfect for chickadees, bluebirds, titmice and other small backyard birds.
Townies, the birds who live in the burbs are more likely to see early successful broods and fledges this year than their counterpart county birds. Townies have it good, with feeders, water and housing offered in many scattered backyards. Country birds have a tougher go of it with the miserable weather and what looks to be, a late spring. We hope for the best.
Competition for nest sites is tough out there!
So to help wild birds thrive, just pick out a new decorative bird house and nab 10% off, plus free shipping on $95 or more for President's Day (all week)… our thanks for housing the birds 🙂