decorative bird houses that go the distance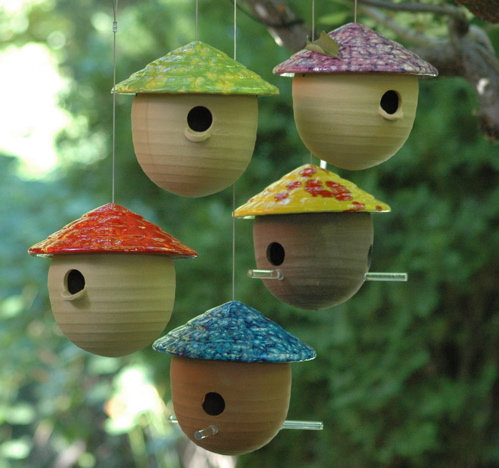 Providing birds critical roosting and nesting sites to raise their young can be anything but a boring wood nest box.  Decorative bird houses abound out there in birdie retail land, with so many fun designs and shapes it's hard to choose!
But there are some things to be aware of when choosing decorative bird houses. Wood is always a natural choice, but will it go the distance? How many seasons might it last? If it's made in China, your chances for many seasons of successful broods may be slim. Hand crafted wood houses that are made in the USA have a far better chance at surviving over the years.
Ceramics and stoneware are sturdy materials that won't break down over time. There are some great artists creating wonderful pieces of functional art like decorative bird houses. As long as the house is equipped with adequate ventilation and proper drainage it's a good choice. The entrance must be correctly and proportionally-sized for the birds you'd like to attract as well. Adding some nesting material nearby will also encourage birds to take up residence in your yard. And as always, a fresh water water source will entice more feathered friends than any house or feeder alone…. Happy Birding!