cool glass bird feeder resembles the old mod pod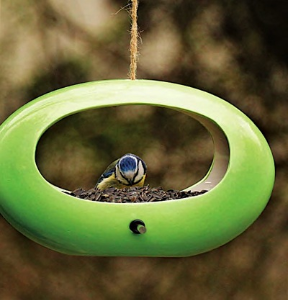 Here's a new twist on an old favorite, the Mod Pod bird feeder produced a few years ago by Birdbrain. The bright colors and groovy designs really caught folks' attention (and birds too), so it was a real bummer when they discontinued the line of feeders.
Enter this oval glass bird feeder that's actually frost resistant ceramic. The improved design is an added bonus because it accommodates a variety of treats for your beaked buddies! Sort of  like a Fly-Thru feeder, you can offer birdseed mixes, peanuts, fruit, suet, and crumbles & nuggets in this fun glass bird feeder. Change up the menu according to seasons – and who you'd like to attract. The open design also makes filling and cleaning a snap.
Shown in light lime, the Mod Oval Bird Feeder comes in cool Winter Blue as well. A high quality glass bird feeder that promises many seasons of use and enjoyment by birds and hosts too!