Archive for the 'Fly Thru Bird Feeders' Category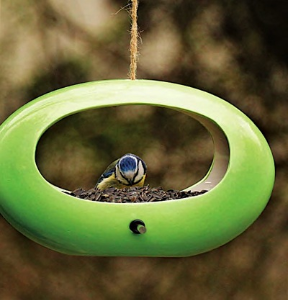 Here's a new twist on an old favorite, the Mod Pod bird feeder produced a few years ago by Birdbrain. The bright colors and groovy designs really caught folks' attention (and birds too), so it was a real bummer when they discontinued the line of feeders.
Enter this oval glass bird feeder that's actually frost resistant ceramic. The improved design is an added bonus because it accommodates a variety of treats for your beaked buddies! Sort of  like a Fly-Thru feeder, you can offer birdseed mixes, peanuts, fruit, suet, and crumbles & nuggets in this fun glass bird feeder. Change up the menu according to seasons – and who you'd like to attract. The open design also makes filling and cleaning a snap.
Shown in light lime, the Mod Oval Bird Feeder comes in cool Winter Blue as well. A high quality glass bird feeder that promises many seasons of use and enjoyment by birds and hosts too!

From Fly-Thrus, to Platforms, you can entice more species of birds by offering a variety of treats. These styles of feeders allow you to change up foods according to season, offering migratory birds in summer a completely different menu from local winter residents. Anything from fruit and suet, to peanuts and mealworms, are easily fed in this style feeder.
All birdfeeders are not created equal: Some desirable birds will not visit certain types of wild bird feeders, like tube style feeders. Great for some clinging birds, they're just not suited for all birds. But most are easily drawn to platform and fly-thru feeders. Cardinals are a good example of this, as they tend to shy away from the narrow perches on tube feeders.
There are still many delightful options when choosing a platform-type bird feeder, they need not be boring! From classic architectural styles, to whimsical and fun designs, wild bird feeders will enhance any garden or yard while attracting feathered friends, they bring a dull and boring area to life!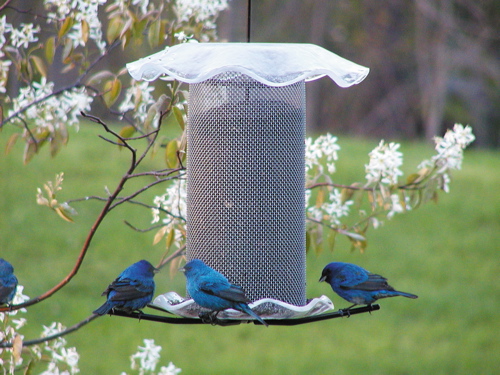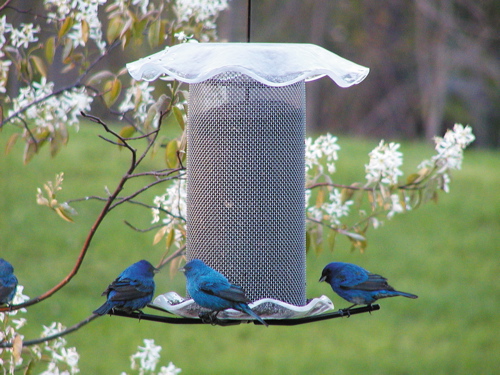 Thistle seed, also known as nyjer, is a great way to attract more species of wild birds to your yard. Best know for feeding finches, other species enjoy this versatile seed as well.  Shown above, Indigo Buntings are perched at this feeder. Guess they don't mind that it's really meant for finches? Juncos and Towhees can also be seen at finch bird feeders, as well as Pine Siskins. By adding finely chopped sunflower hearts or meats, you'll attract these species easily if they are native to your geographic area.
The other great thing with finch bird feeders, is that thistle seed will not germinate. No messy weeds to sprout below feeders in the garden or yard. Thistle is coveted for its high fat and protein content, and is eaten almost exclusively by Goldfinches. They will perch at the feeder, eating seed after seed then carry off their prize to the nestlings. The babies eat the exact same diet as their adult parents, so these feeders make for an excellent birder's observation.
As always, a fresh water source will draw more birds into your yard than feeders alone, so be sure to have some type of bird bath available year-round. And remember, Goldfinches aren't yellow all year, so don't think they're not around. Winter weather brings a dull brownish-green plumage, as it is the warmer months of spring and summer that show the vibrant yellow plumage.



They're guaranteed to never crack, split, or fade!
If you could purchase something that came with a manufacturer's guarantee, wouldn't you trust it?  Recycled wild bird feeders are probably one of the greatest advancements in backyard birding products.  Made from milk jugs and other recycled plastics, they greatly reduce landfill waste, and are some of the most durable feeders on the market!  The Log Bird Feeder above uses 10 milk jugs for it's production, while the Fly-Thru Feeder uses about 32 milk jugs each!
Most recycled feeders are guaranteed to never crack, split or fade.  Attractive as well, they're available in every style from hoppers, to platforms and fly-thrus, and even log feeders for feeding suet to woodpeckers and others.  Recycle and Reuse!

Fly Thru Bird Feeders are wonderful as they can accommodate such a wide variety of birds and foods. Anything from mixed birdseeds to suet, and dried fruit to meal worms can be fed in a fly thru feeder.  Their practicality makes them an obvious choice if you are limited on the number of bird feeders you can have.
These innovative, hand crafted fly thu bird feeders can also be used as birdbaths.  They are are made of solid copper and the trays are watertight.  The unique design of the curved handles slides right into the roof.  Birds and food are protected from the elements.  These architectural, simplistic designs add beauty to any landscape, and the copper weathers over time to a lovely patina finish.
Totally functional art for your feathered friends that will last a lifetime.