Bird Cams Included with Some Houses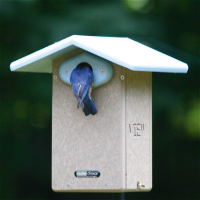 Some birdhouses reserve the name of "ultimate" because of the great features offered. This bluebird house is dubbed the Ultimate Bluebird House with Camera. It's made from recycled plastic  (poly-lumber) that's guaranteed to never crack, split or fade. The interior bird camera is included with 100 feet of cord that attaches to your computer or television. Complete instructions, stainless steel hardware and mounting screws, with a raised screen floor to reduce blowfly infestation. Watch the nest daily and experience nature's wonder of hatchlings growing and fledging their nest.
Bird Cams have come a long way in that they are now available at very affordable prices, and easy to install. Some of variations on these cameras include the Timelapse Plant Cam, and a new Camera with flash. A mounting arm for attaching the camera to a feeder pole is also widely used among birders to capture some great activity. Bird Cams make for wonderful and lasting gifts for any backyard enthusiast too.