An OMG thank you for a Copper Roof Birdhouse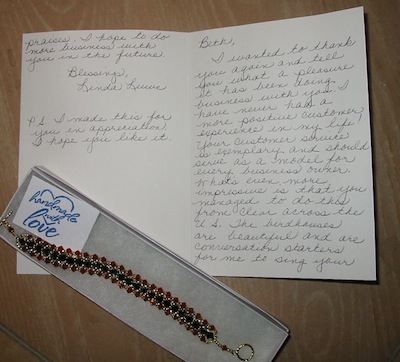 When a package was received in the mail today, I had no idea it would be a gift from a customer! Not only the nicest letter any business owner could hope for, but a stunning hand made bracelet to boot!
Reaction: OMG! Although the birdhouse chick has received many accolades and notes for wonderful customer service and great birding products, I don't recall ever receiving a gift!
Did we go above and beyond on this copper roof birdhouse order? Not necessarily, it's pretty standard procedure that if something should go wrong, we fix it fast and follow through.  January's frigid temperatures can sometimes cause the vinyl on these houses to become brittle. When shipping companies handle the boxes too roughly (dropping the box out of the truck instead of carrying it) the vinyl may crack.
So a new base for the big birdhouse was on its way the next day, but when it came time to discard the broken one… our customer couldn't bear to part with it! Inquiring on repairing the original base, she asked if it was possible to purchase just a roof, and salvage the damaged house. Of course we obliged and all turned out well. No, better than well… it turned out great!
Thanks to all of our fantastic customers (new and repeat) for housing and feeding the birds 🙂 And to our artists and vendors… you rock!!