Yes, They Make Bird Seed Trays for Poles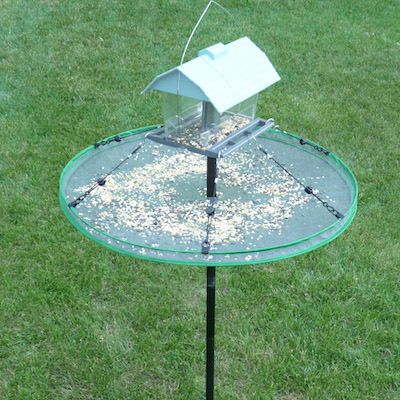 One of the down-sides of feeding birds (for some folks) is the ground mess with which to contend. There are easy ways to avoid waste pretty much altogether… and fairly easily.
Whether hanging or pole-mounted, there's a solution with bird seed trays. This one is adjustable and accommodates almost any style feeder out there! Although the Seed Hoops hang, they'll slide nicely right over a pole as well. It's as simple as cutting a small slit in the center of the tray.
Also in wood and durable recycled plastic, seed trays are available for 4×4 posts too.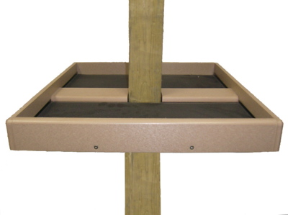 A tad more sturdy, the poly-lumber (or recycled material) truly does last a lifetime.
A few other measures to avoid ground mess or at least reduce its presence, is using a no-waste seed. Because there are no fillers, birds are less likely to sort through and pick out the good stuff! Fillers are what ends up on the ground anyway, millet, milo and corn being most common. Sunflower hearts are always a great choice, and you can bet anything that does land on the ground gets scarfed up quickly.
Suet is another alternative for clean feeding. Many birds will partake and there's no waste. Thistle's also a good choice as these seeds will not germinate. You won't see as many species with thistle alone (mostly finches), but when offered along with suet, there should be a good variety. Chickadees, nuthatches, warblers, woodpeckers, and even bluebirds in winter will go for suet.
So if the feeding mess has you down, don't give up the ship yet… try using a bird seed tray and offering cleaner seed. The birds are worth it 🙂