When it's Just too Darn Hot for the Birdbath!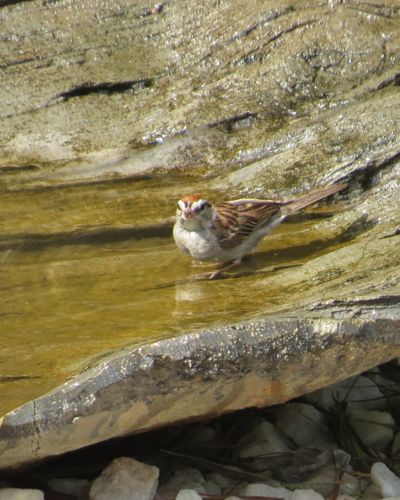 Mr. Chipping sparrow needs to cool off, he enters the naturally textured birdbath with gentle slope as it's quite enticing. But surprise! You reside in Atlanta where it's hotter than Hades right now and the bath water isn't just warm… it's hot 🙁
Not so refreshing… except for the gentle spray from the leaf mister above! Like the shoemaker's daughter with worn shoes, our own mister at home is really old with a slight drip. But the drip is ideal over a birdbath as it keeps the water moving (no mosquitoes) and adds fresh, cool water on a slow and steady basis. Birds are absolutely wild for it! So much so, they sit and wait for the misters to start every morning, it's like a virtual bird spa.
This mister is attached to an old metal… not sure what it is, but a simple plastic plant stake with twist-tie works great. Even the garden benefits with ease of mobility, moving the stake around to different sections each day. Gardens grow lush, and birds love taking leaf baths too!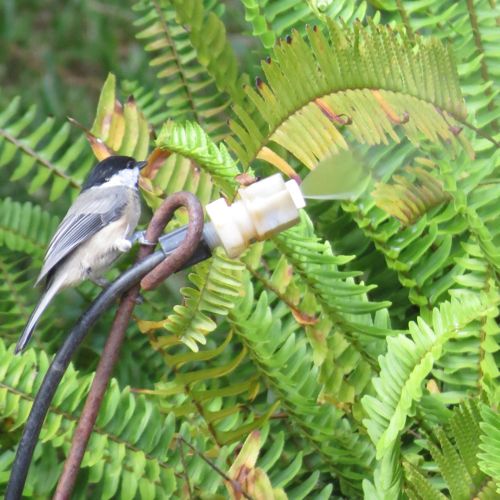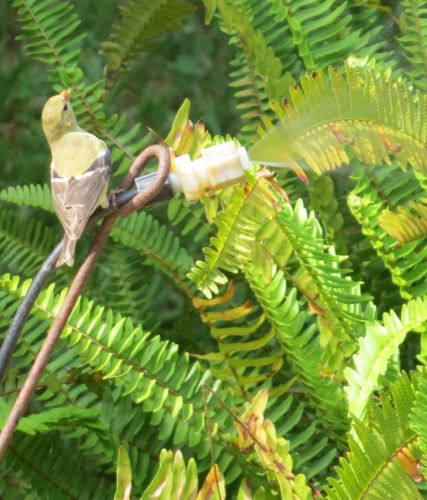 When placed over a birdbath, leaf misters offer fresh and cool water for birds, butterflies and other wildlife. Activity is pretty amazing on warm summer days. Stagnant water is no fun for anyone when temperatures remain in the 90's. Adding a water feature like a dripper, solar fountain or water wiggler to your birdbath will bring it to life, entice more birds, and keeps water fresher for longer periods of time.
The whole set-up is shown below and it's simple to recreate. The misters come with everything to be up & running in minutes! With 50 feet of tubing, it attaches to the outdoor spigot, complete with Y-valve that keeps garden hose free for use. Extra tubing is optional, and we can promise (from personal experience) birds LOVE these things!