Swell Recipe for Window Bird Feeders & Surprise of the Day!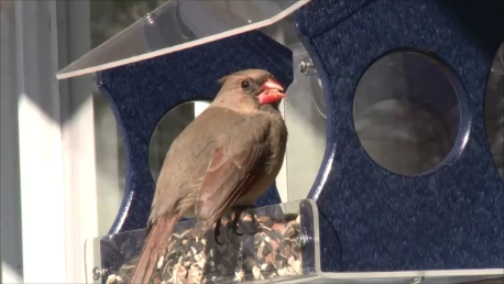 Experimenting with a home-made seed mix the other day, a double take was certainly in order as I glanced beyond the window feeder… discovering two of the biggest visitors ever!
But first the delectable mix that so many bird species seem to adore, it's perfect for tray style window bird feeders and any type of platform or dish feeder too. There's no measuring and it mixes up easily in a gallon zip-lock bag. With a little something for everyone, many bird species have been spotted taste testing!
1 No-Melt suet cake, finely crumbled (we use peanut or orange)
2 handfuls of shelled peanuts
2 handfuls of dried mealworms
2 handfuls of sunflower hearts
Mix well by shaking bag vigorously
The yummy mix is full of fat & protein, and we've seen chickadees, titmice, cat birds, Carolina wrens, bluebirds, woodpeckers and others trying it on for size. Approval seems unanimous, definitely a keeper!
And the big visitors? Take a gander at these 4-legged birds! Living in a subdivision it's not everyday one sees horses grazing freely, but that's what was out there! Failing to snap a photo of them loose in the back because panic ensued and who to call was the task at hand. After reaching animal control services, I was most relieved to hear the horse's people were indeed looking for them, and they arrived in minutes.  Off they went- end of excitement for the day, the pony sure was a little cutie, he's the one who likely pushed the gate open too!