Turnovers are for apples… not bird baths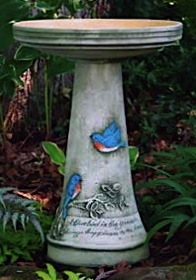 One fairly common sight during winter in colder locales (which most folks probably don't even notice) is the unused, out of commission, over-turned bird bath. The scene is saddening. Obviously folks do this to keep them from freezing and cracking, but this is actually when birds need water most! Sure they can eat snow, (not ice though) but it takes their tiny bodies lots of energy to convert that snow to water. Calories=Energy=Warmth.
When temperatures freeze, shallow pools and puddles are the first thing to ice over, and many feathered friends may have become accustomed and dependent on these water sources. Not only for drinking, but bathing in winter is critical too! Feathers must be clean and oiled to work properly, for flying sure, but for insulation as well. Clean feathers are able to trap air pockets which help keep birds warm in frigid weather. It's one of the innate, ingenious mechanisms they use to survive. You know… when you see them all puffed up and round looking, that's air pockets between their feathers.
Offering a fresh water source (especially in winter) is an absolute, sure-fire way to keep birds around your place. It's part of the reason our bluebirds brave cold winters here in the North Georgia mountains. Heated bird baths are an investment in your wildlife habitat. Just unplug for use year round and it's likely one of the best investments in backyard birding. If a heated bath isn't within budget, opt for a simple heater you can add to your existing bath… or even a shallow pan of water. Deeper plant saucers make great bird baths, and many of the heaters today are safe with resin and plastics. If your container is more than 2-3 inches deep, consider placing a large rock in the center for birds to land and perch safely.
Here's one of our own baths turned heated bath for winter. It's actually a poly-resin planter that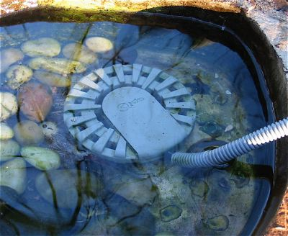 looks like rock. It sits on a tree stump and blends nicely with the landscape. Birds love it because it's shaded in summer, and offers somewhat of an escape from predators in the surrounding tree. They also like it because the water stays clean… that's important! If you're going to offer a water source, be sure to maintain it by keeping water fresh.
Help resident birds in your neck of the woods with heated bird baths this winter… betcha they stick around through spring and summer too!