Happy Halloween and a Storm's Aftermath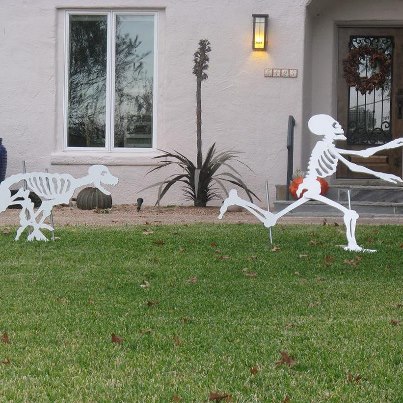 Around Halloween it's usually a bat topic that makes an appropriate blog post. But this display found floating on a social network was just too good to pass up! It may have been hand made, because we can't find it for sale online anywhere. How original, and if you happen to be a dog lover… it's just awesome!
None of this has to do with birding… but it's where I grew up.
With Sandy's recent and vast rage on the east coast, social network's news is more relevant… as my home town was hit hard, yes this was the storm of the century.  Someone renamed Sandy (as she just sounded too friendly) to Sandra because she wasn't so friendly… South Jersey was pummeled, especially the barrier islands.
Thankfully friends fared well with the exception of the usual inconveniences; no power, no phones, no cable, closed roads, etc. The beach appears to be on Atlantic Avenue now (yes, the monopoly game) and there's much cleanup ahead. Large portions of the boardwalk were seen floating down the streets too. It's rather difficult looking at photos of destruction of the place you grew up – yet alone being there through the storm. Our hearts go out to all those affected, and all the four-legged, and winged ones who suffered as well 🙁