keep a window hummingbird feeder out for stragglers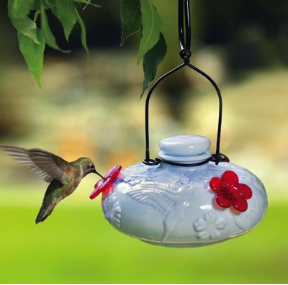 Although the extra four feeders added for busy hummingbird migration weeks have come down and remain in storage until next September, one lonely feeder hangs. It's an offering for passers-through, stragglers to refuel for their long road trip.
There are still hummingbirds in parts further north who are their way to winter grounds. A pit stop to re-fuel greatly increases their chances of a successful journey! Nectar solution is made stronger this time of year, offering more calories. Because Calories=Energy.
You can turn any hummingbird feeder (except really large capacity ones) into a window hummingbird feeder with sturdy hooks and window hangers. T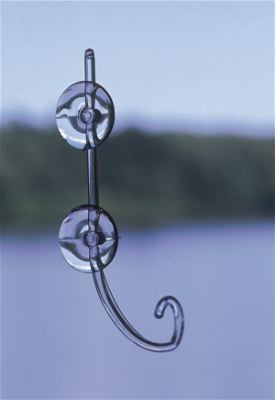 he Great Hang-Up, shown here, accommodates up to three pounds… secure and safe! It's perfect for smaller nectar feeders, and seed feeders too. Close up views of bird behavior are a big part of the whole backyard birding attraction. Watching behavior up close, lets you determine birds further off in the yard just by how they act, and this is great if you have poor eyesight and never wear your glasses! Plus having the freedom to change the feeder with seasons is also very cool. Switch it up and try a window hummingbird feeder next season, with hangers like these, the possibilities are endless.