turn your feeders into squirrel proof bird feeders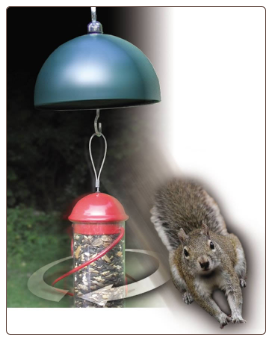 Backyard birding can bring a few frustrations to the serene and peaceful hobby. Namely squirrels… they can cause some damage and be a real bummer when constantly raiding bird feeders.
There are fairly easy ways to turn your existing feeders into squirrel proof bird feeders. With some careful placement and a quality squirrel baffle, your squirrel headache will be solved for good!
Economical plastic or metal baffles may be installed for pole-mounted feeders and hanging feeders too. On the pole, the baffle sits below the feeder and keeps squirrels from reaching the feeder above. When used on hanging feeders, baffles act as a shield to keep the critters from reaching down past them to the feeder.
Some baffles, like the Twirl-A-Squirrel shown here, have a motorized compartment which reacts and spins when the weight is significantly increased. It's very effective against squirrels, and extremely hilarious to watch. But don't worry, it will not harm the spinning squirrel… only make him a bit dizzy – depending on how long he wants to hang on!
Check it out in this manufacture's video clip: