Think Vinyl Birdhouse-Feeder for Valentines!


Love Birds? Us too!

As in do you love wild birds? Vinyl birdhouses-feeders make awesome gifts… for countless reasons.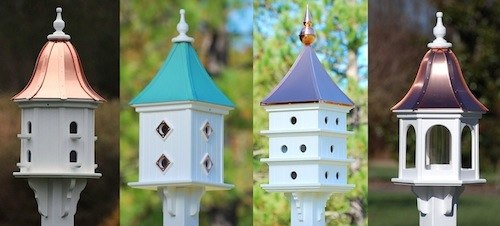 First, they look like wood. Some folks have even insisted they are not PVC or vinyl! Along with the solid copper roof (no metal over plywood) these vinyl birdhouse-feeders are guaranteed for life. It's a one-time investment that brings birds and much joy indefinitely. Oh yeah… and curb appeal too, they're quite handsome in the landscape!
Second, there's a wide range from which to choose. Bird Feeder or Birdhouse, which is best? Feeders will see more activity on a daily basis… but they must be maintained. Part of the beauty in these vinyl bird feeders is ease of cleaning. For a more thorough cleaning, simply slide the feeder off of the pos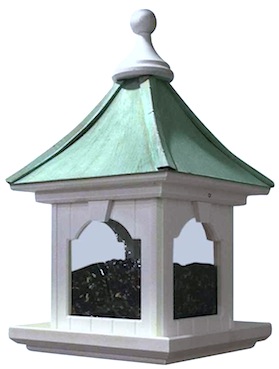 t and take your garden hose directly to it for a good cleaning. Birdhouses on the other hand, only require nest removal after babies have fledged. Another major advantage is that vinyl is non-porous. This means mold and bacteria will not settle into cracks and crevices as it does with wooden feeders. Aside from the traditional Gazebo feeder which is post-mounted, there's a hanging style with large capacity hopper. This allows for more bird-watching time and less filling the feeder.
Two roof options are lacquered copper- which remains bright & shiny for about 4 to 5 years before weathering to a dark/aged finish. Think copper trim on a real house and how that looks dark after a few years. Patina finish is an acid wash applied with heat and remains an earthy and mottled blueish-green color.
From small (bluebird houses) to extremely large (martin birdhouse) and in between size dovecotes… the range offers something for everyone. Birdhouse-feeders are gifts with purpose. What they give us back is simply intangible. The nature connection alone has the ability to remove daily chaos and lift the spirit. To take in nature- even from the comfort of your own home is awesome gift for your Valentine… or even yourself 🙂
May you be showered with love (and feathered friends) this Valentine's Day and always.
Use code FH10 to nab $20 off vinyl birdhouse-feeders. They ship for zip too!