Finch Bird Feeder Disaster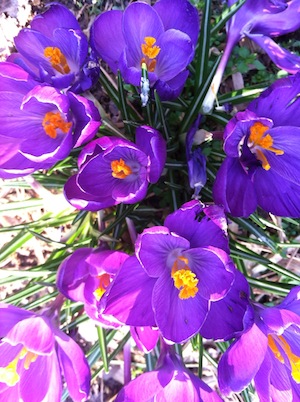 Without fail buds are blooming and bulbs spring forth from the ground… in February. Likewise without fail, the Atlanta area will experience another cold snap, snow or an ice storm before spring decides she's here for the duration. The rain's been fairly continuous for about three weeks, yesterday was a balmy 80 degrees!
Warm, wet weather spells disaster for bird feeders, especially finch bird feeders. It's not that humidity affects thistle seed any differently from other seed mixes- it's the unnatural and exaggerated number of birds feeding from the finch feeders.

Local populations of goldfinches, pine siskins and house finches are huge around this time of year. Combined with wet or moldy seed means disease can be spread rapidly, with the feeder itself or ground waste below as the main culprit.
Mold creates airborne disease which is usually fatal to birds. A form of strep, the most common way it's passed is via the feeder. Telltale signs of infected birds are swollen eyes, lethargy (they allow you to get very close) and ruffled or unkept feathers.
The infected finch below will likely fall prey to predators or starve to death as total blindness sets in. It's the best excuse for keeping bird feeders clean and the area below them raked free of hulls or waste. We attract birds to our gardens simply because we enjoy their beauty, song and grace… sick birds are anything but 🙁
It's advised to take all bird feeders down and disinfect with a 10% bleach solution. Clean the ground below feeders well. Wait 2 to 3 weeks until the local thistle-eating population has subsided before hanging feeders again. This is a tough chore, both physically (and mentally for some of us bird nuts). So it's best to avoid and practice good hygiene when enticing birds to your place! Humans do feathered friends no favors at all by causing disease or allowing it to spread.