The Ant Moat Accessory for All Sweet Feeding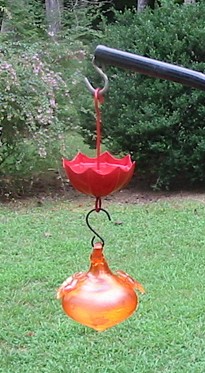 Not just for hummingbird feeders, the all-important ant moat will protect nectar in butterfly and oriole feeders, they're ideal for jelly feeders too! Ants adore sweet sticky anything, so as long as there's a hanger, you can use an ant moat. It just comes between the feeder itself and the hook from where said feeder will hang.
Because ants can't swim, the water inside the moat keeps them from reaching nectar. The pesky things must exude something quite distasteful as one single ant ruins a whole batch of nectar in the feeder, hummingbirds won't touch it!
Basic colors are red, black, clear and orange for orioles. Some oriole and hummingbird feeders offer built-in moats, but they must be maintained and filled with water to serve their purpose. Let the moat run dry and like magic… ants will appear if they're anywhere in close proximity.
Here's a great "how to" video to make your own ant moat. So if you're the crafty type, and have the time and patience to do these kind of projects, check this video, and ants be gone for good!
https://www.facebook.com/teresa.crain.94/videos/10152707295271986/?pnref=story