Try a Hanging Bird Bath for Mother's Day!
Did you find the perfect Mother's Day gift yet? If not, best to shake a tail feather! Printing a nice big color photo of your gift and placing it inside a box that's gift-wrapped is always an option if you've snoozed.
Another good idea to keep in mind: don't shortchange your mom with a short-lived gift! Yeah, that's a good one to remember because well, she's your mother and the reason you're here 🙂

Long-lasting gifts bring the most joy, and birding gifts bring a relaxing connection with nature… unlike jewelry or little "chatchkas" that gather dust.
Perfect for any space in the garden or even on the deck, a hanging bird bath rocks! Fresh water entices more birds to the garden, and we can promise, whether a novice or experienced birder, Mom loves to watch her feathered friends!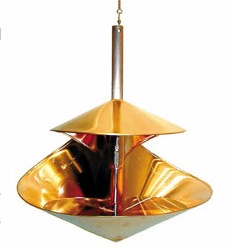 Hanging birdbaths can even be used as feeders, offering seed, suet, peanuts or fruit to lure migratory birds. The colorful Tiffany inspired bath above offers a traditional appeal, while contemporary styles in solid copper are most mod. Ceramic hanging baths are offered in vibrant and whimsical styles… and all are sure to entice more beaked buddies to the garden!
Why go to the trouble of finding something unique that will actually last? Because on her special day- which comes only once a year- she really does deserve something that brings smiles and real pleasure for many seasons to come!