Fun Teacher's Gift: Edible Birdie Cottages are Wood Birdhouses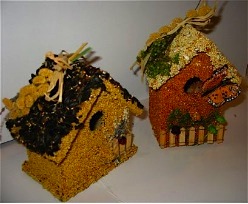 Need a clever and fun gift for teachers? Something that's functional is always a good bet, and if he/she happens to be a nature buff, birdie cottages are perfect!
Wrapped in clear cellophane, they make for a great presentation when topped with a simple bow. In sets of two's, one buy gets two teachers, with something unique and actually usable!
Handcrafted in the USA, real wood birdhouses are used below the premium seed. Songbirds love them now as feeders and later as houses and roosting spots. The larger version is a super cool full-size wren house (All-Seasons Casita) and both are on sale now.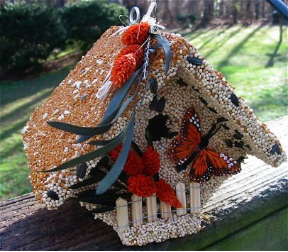 Think outside the box this year for a special teacher who's put forth extra effort inspiring students. Gifts like these are for now and later and do keep on giving… back to the birds 🙂